Soapbox Science Lisbon 2022 – Empowering Women in STEM
Soapbox Science comes on October 15th for the third time to Portugal, Lisbon.
As a premier we will be found for the first time live in person at FICA Oeiras
🇵🇹 Versão portuguesa disponível aqui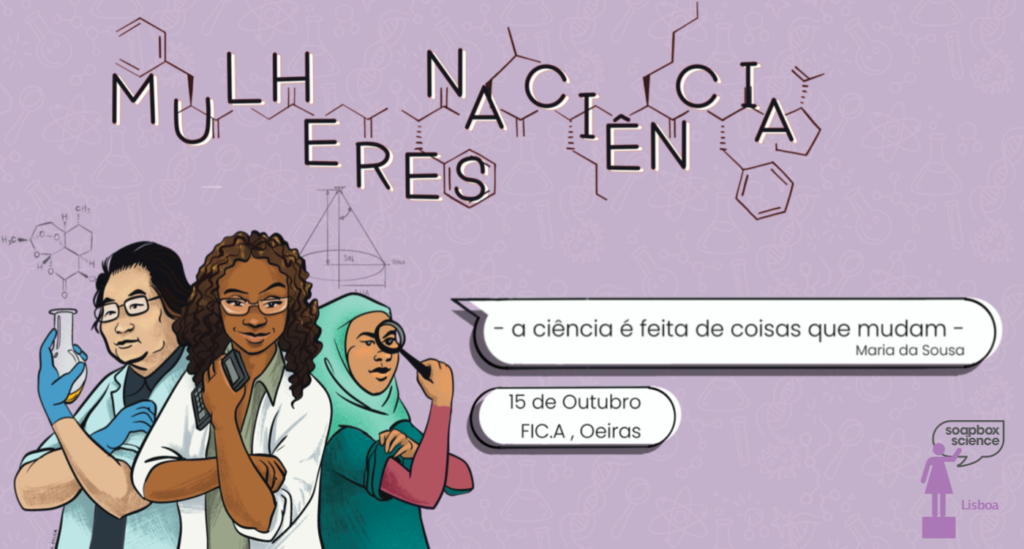 Over the last decade large investment in science outreach and promotion of careers in Science, Technology, Engineering and Mathematics (STEM), targeted to young girls and women, finally shows success. In Europe, on average there is a higher number of accomplished females than male undergraduate and graduate students in the STEM fields. However, women are less likely than men to reach full professorship in their academic career. In Portugal, 62% of the doctoral graduates in Natural Sciences, Mathematics and Statistics are women, yet the proportion of women in senior academic and decision-making positions drops to 30,2% in Natural Sciences and it goes as low as to 10,6% in Engineering and Technology [1]. Where do all these highly educated and scientifically-trained female scientists go? And Why do women leave academia? 
Women bring unique perspectives to research and scientific conversations, and scientific research and innovation is more accurate when gender and ethnicity are considered. The lack of the visibility of role models and gender based discrimination – implicitly inherited by obsolete cultural patterns or directly expressed by explicit prejudice, both often taking the form of microaggressions – are thought to explain the leaky pipe. Women receive fewer invitations to conferences [2], are less cited [3] and are awarded less funding [1] than their male counterparts, despite equal performance. This pattern is further reinforced due to an unbalanced distribution of necessary career breaks between men and women regarding child and elderly care, which became even more prominent in the light of the covid pandemic [4].
What can we do to help women in STEM to unleash their full potential as a scientist?
Soapbox Science – a global public outreach platform that promotes women scientists and the science they do – is part of a large effort to eliminate gender inequality in science. We bring cutting-edge research directly from the lab to the people, while raising the profile of individual scientists and challenging the public's view of who a scientist is. Our goal is to empower local female scientists by giving them visibility, provide inspiration and role models for budding young female scientists, and improve awareness of the wealth of research that is conducted by women around the world. Finally, we want to generate a network for female scientists to nurture mutual empowerment and open the discourse about what it takes to succeed as a woman in science.
📍On October 15th, from 3-6pm (GMT+1), our Soapbox Arena will be at FICA and we will host 9 local female scientists selected from a competitive pool of researchers. There will be three 1hr sessions, with three speakers per session, where they will be sharing their work in technology, science, medicine and engineering. The public audience, of all ages and backgrounds will not only have the opportunity to listen and learn from the speaker about their topic and perspectives, but also, will be able to directly interact with them, and ask questions to each scientist individually in a fun and sharing environment.
In the Theme of the Month of October of Portal do Astrónomo, we present articles written by some of the scientists who will take part in this year's event:
Click on the links below to read:
► Article by Malgorzata Zakrzewska 
If you want to know more about the organization and events, have a look at this short video, read the blog posts and reviews of the 2020 speakers and volunteers, the blog posts of 2021 speakers and the advertisements, and watch the presentations on our YouTube channel. For more global information visit soapboxscience.org.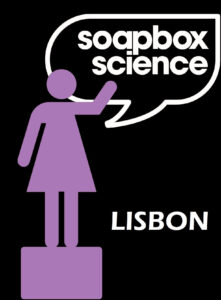 If you have any questions, please contact: soapboxscience.lisbon@gmail.com and don't forget to follow us for updates about the event and our initiatives on:
Twitter: @LisbonSoapbox
Instagram: soapbox_science_lisbon
Facebook: soapbox science Lisbon
LinkedIn: soapbox science Lisbon
We couldn't run this event without the support of our partners:
Soapbox Science Lisbon Team 2022
Simone Lackner (@MagSimal) is a multidisciplinary scientist with a degree in Molecular Biology, a Ph.D. in Systems Neuroscience and post-doctoral training in Computational Social Science. She is passionate about science communication and as a ReMO Ambassador of Wellbeing in Academia an empathic advocate for diversity, equity and inclusion. She was part of developing "Ar-respire connosco" and is founder and team lead of Soapbox Science Lisbon.
Oihane Horno did her Bachelors degree in Physics in the University of the Basque country, after she moved to the Netherlands where she did her Masters in Neuroscience at Maastricht University. Now she is based in Lisbon where she is doing her PhD at the Champalimaud foundation. She is doing a collaborative project between the Cortical Circuits and the Theoretical Neuroscience labs, where she studies the inter-brain area communication of the visual cortex.
Amparo Ruiz-Tagle is a clinical neuropsychologist from Santiago de Chile, currently a Neuroscience PhD candidate at Universidade de Lisboa. She is participating in a clinical project as part of Evolutionary Systems and Biomedical Engineering Lab (LaSEEB, ISR-IST) and Laboratório de Estudos de Linguagem (LEL-IMM) where she's studying cognitive and emotion processing throughout the migraine cycle.
Denise Camacho
is from Cape Verde and studied Pharmaceutical Sciences at the Jean Piaget University of Cape Verde. During her graduation, she was selected to develop her thesis at the Aggeu Magalhães Research Center in Brazil – PE. Denise is currently a PhD student at the Champalimaud Foundation, where she studies how cancer cells compete with normal cells to grow and invade new tissue. She is developing her project at the Cell Fitness Lab.
Rita Sousa did her Bachelors degree in Biological Engineering in Instituto Superior Técnico and is currently finishing her Master's Thesis in the Experimental Degeneration Department at the University Medical Center Goettingen, Germany. Her project focuses on studying a novel  alpha-synuclein mutation associated with Parkinson's disease and the usage of nanobodies as structural and mechanistic probes for aggregation forms of the protein.
Susana Parreiras did her Bachelor and Master degree in Biochemistry in the NOVA School of Science and Technology. Currently, she is working at ITQB-NOVA in Oeiras with a Research Fellowship at Protein Modelling Laboratory and Systems and Synthetic Biology Laboratory in the DeepBio Project. She will soon start her PhD at ITQB-NOVA and NOVA Medical School with the topic "Oxidative modifications of human hydrogen synthesizing enzymes in chemoresistance to cancer".
[1]She Figures Report 2018
[2]Nature 573, 184-186 (2019), https://doi:10.1038/d41586-019-02658-6
[3]Budrikis, Z. Growing citation gender gap. Nat Rev Phys 2, 346 (2020). https://doi.org/10.1038/s42254-020-0207-3
[4]Myers, K.R., Tham, W.Y., Yin, Y. et al. Unequal effects of the COVID-19 pandemic on scientists. Nat Hum Behav (2020). https://doi.org/10.1038/s41562-020-0921-y
NOTE: Portal do Astrónomo's Themes of the Month are the responsibility of the authors.
Classificação dos leitores