SoapBox Science Lisbon 2022 – Article by Diana Marques
Article by Diana Marques
🇵🇹 Versão portuguesa disponível aqui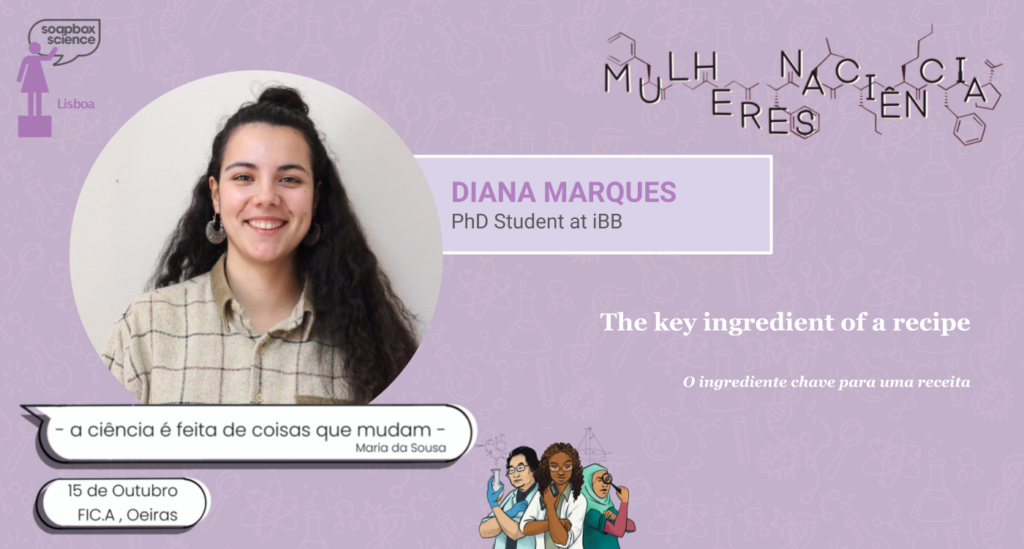 The key ingredient of a recipe 
I was raised in a big family. I have four brothers, and eating together has always been a time for bonding. We ate, enjoyed ourselves, and got caught up in conversations during that time. Interestingly, people like doing the same with their loved ones. Food has traditionally been a means of human connection. For instance, going out to eat with friends. I, personally,  adore cooking! I enjoy cooking dinner and sharing it with the people I love. Cooking with love is, as I usually say, my special ingredient.
As my scientific career developed, I frequently questioned whether I would be happier in the lab or in the kitchen. Even if it can seem odd, there are parallels between the two domains. In the kitchen, I follow a recipe; in the lab, I follow another recipe that we call a "protocol".
One day, when taking an entrepreneurship class for my master's, I realized that the intersection of the two existed: Fish and meat can be produced in laboratories, without sacrificing animals for that purpose. I remained fascinated by this concept and I kept learning more about it. As a vegan, I saw a lot of room for improvement and the potential to achieve the sustainability goals required in the production of this kind of food. We are currently dealing with a pressing environmental problem that calls for the development of effective and creative solutions to safeguard both the present and future generations. Because of this, the idea of creating laboratory-grown fish was incredibly attractive and stimulating.
I began working on this concept during my master's thesis when only a few people were interested in the project. However, with perseverance and hard work, I was able to secure funding for cellular agriculture research, and now I am about to begin my Ph.D. on new cellular agriculture techniques for producing cultivated seafood. My goal is for people to one day be able to consume these products with the same joy that I "cook" them in the lab.
My advice to young scientists like me is to find what you are passionate about and to work on something that relates to your personal identity and values!
Diana Condeço Marques, a Soapbox Science speaker who is about to start a Ph.D. on new cellular agriculture strategies for producing seabass filets in the lab.
Author
Diana Marques is a Ph.D. student who has a master's degree in Biotechnology from Instituto Superior Técnico and a bachelor's degree in Biochemistry from the NOVA School of Science and Technology. Currently, her scientific interests are in sustainable food systems, specifically in the cellular agriculture field. In her scientific research, Diana has focused on edible materials and plant-based scaffolding. In her Master Thesis, Diana developed novel edible vegan and electroconductive bioinks for 3D bioprinting using algae-based materials. This work was recently published. Today, Diana is developing her research at SCERG at the Institute for Bioengineering and Biosciences (iBB), working on the project Algae2Fish to produce algae- and plant-based scaffolds to fabricate seabass fish filets using 3D bioprinting and electrospinning techniques.
SoapBox Science Lisbon 2022
On October 15th, from 3-6pm (GMT+1), our Soapbox Arena will be at FICA and we will host 9 local female scientists selected from a competitive pool of researchers. There will be three 1hr sessions, with three speakers per session, where they will be sharing their work in technology, science, medicine and engineering. The public audience, of all ages and backgrounds will not only have the opportunity to listen and learn from the speaker about their topic and perspectives, but also, will be able to directly interact with them, and ask questions to each scientist individually in a fun and sharing environment.
Classificação dos leitores