SoapBox Science Lisbon 2022 – Article by Andreia Pinto
Article by Andreia Pinto
🇵🇹 Versão portuguesa disponível aqui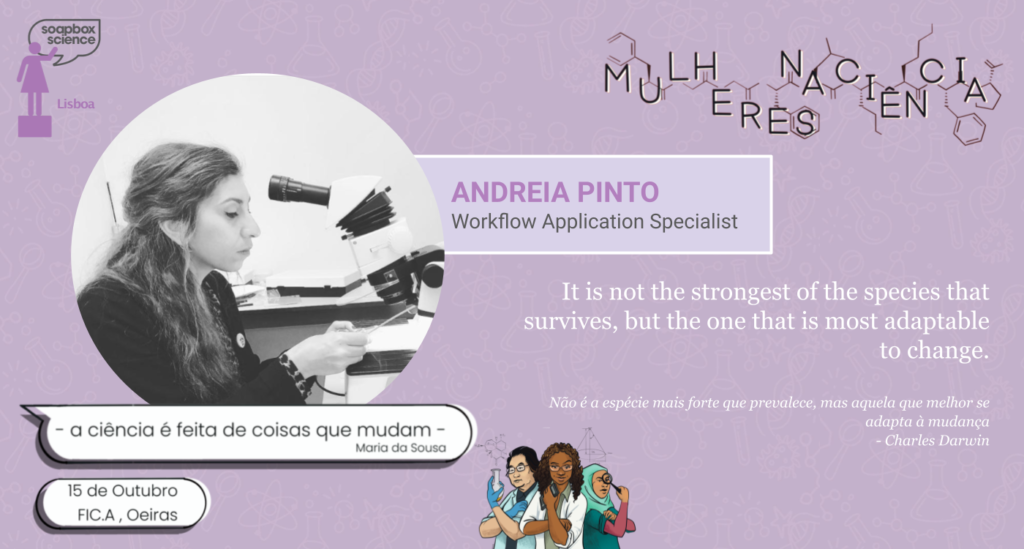 It is not the strongest of the species that survives, but the one that is most adaptable to change.
Charles Darwin 
There is no recipe for life.
No perfect timing. Life just happens.
And the more we move the more life happens. As for me? I feel like I never stopped moving.
When I was a teenager, I could never imagine I would be this person, being where I am, doing what I am doing now.
I could blog about a Ton of things that influenced my life one way or another, rejection, working overtime, having to learn mostly everything from scratch, bullying, hostile work environments, and the bitter realization of failure, but also the sweet taste of accomplishment and recognition. Nevertheless, today, I will talk about two people that trimmed most of my professional life into place.
But first a bite size version of my route through life. I started everything either too early or too late in life (society would dictate of course) I went to university very young, which felt like a token of success to my parents who could not have access to a higher education. I got married fairly early as well, and became a mother equally early (before 30), currently I have two daughters.
By society standards I also did things too late, I started my PhD at the age of 32 trying at the same time to be the 'best mother in the world. I also realized too late that I needed a new job, one that would make me tired on Friday and excited on a Monday (as crazy as that might sound). I also left Portugal rather late in life, dragging with me a family of four, plus a dog. Adding to that, I only later realized academia was not my cup of tea. 
So, very briefly, I started my career in 2007 with  a fellowship for the maximum amount of time someone can own one in a technological position.In 2012, I finally got a real job doing histology and electron microscopy in life sciences for a research institute in Lisbon. 
I got quite fond of looking at airway and sperm cilia under the electron microscope and I pursue only this subject in London where I worked for the Royal Brompton Hospital as a Research associate in an Artificial Intelligence project from 2019 to 2022. My role was to use electron microscopy images to teach a deep machine learning platform to recognize patterns in cellular structures for future diagnosis improvement. A platform that can assist the specialist in identifying abnormal samples much faster than the human eye alone. 
During this period, I was able to finish my PhD, a tough task when one already has a full-time job and a full-time family. However, working so deep inside academia made me understand I didn't want to do it forever. That is when I started considering the industry. 
Now, I work for Leica Microsystems as an advanced workflow application specialist in electron microscopy and cryo-electron microscopy. I have the opportunity to test, optimize and demonstrate not only the operation of sophisticated equipment but also find solutions for scientific questions interacting with numerous scientists and get to know about their spellbinding projects.
But why electron microscopy (EM), what is so appealing about it? It is certainly not the success rate of the experiments, the easiness of the techniques, the nasty chemicals or the accessibility to equipment. In Portugal, for instance, there is no real training or generalized procedures one can follow straightforwardly. And, by many people, in many places, EM is considered dead and six feet under, PCR and confocal revolutionized science making not much room for the Voldemort of techniques, the lord of dark arts of any research project – transmission electron microscopy. And yet, I do find it fascinating. I guess it is a bit like a high-performance sport, hard to accomplish and requires a lot of practice and overcoming failure, but upon success, the reward is tantalizing, inebriating, and can keep you going for miles and miles.
This is how it started: in 2009 I met two gentlemen, the dynamic duo Dr. Moura Nunes (Mestre), a medical doctor, and a technician called Pedro Branco (Chefe). They were the TEM experts of Instituto Portugues de Oncologia of Lisbon. Chefe Branco would prepare the samples, while Mestre Nunes would observe them on his good old reliable Philips electron microscope (his – yes – because in times gone by, electron microscopes were considered almost like personal items). This microscope was still equipped with an analog system of photography. What does this mean in practice: after spending hours screening samples, the regions of interest would be carefully selected for immortalization on a negative plate. Forget the "let's take 175 photos and select the three we like the most", no patience, planning, strategy, a shipload of combined expertise and a full afternoon under the red-light revealing hours of work, with the heart-pounding in the chest in anticipation of a perfect image. I was sent to them by my first ever boss, Leonor Saude, to learn about TEM, she wanted to see in detail the zebrafish larvae pectoral fins, we didn't know at the time, but this was the prelude for the amazing work her lab has been doing in tissue regeneration, a work worth checking. But this is how we started, by laboriously sectioning dozens of zebrafish larvae, targeting a region that was only some micrometers big. I spend many afternoons with them, and this is how I got inspired. They did it from the heart, they shared unconditionally, and they were never impatient or defeated. I like to say this was my descent into the rabbit hole, they were my white rabbits and I was Alice, I didn't know what I would find down there, I ate the cake, I shrank, I got big again, along the way, just like Alice, I messed up, I ruined samples, I got frustrated, I found it hard to accept that some things were just like black magic somehow. I was constantly haunted by things that looked like the things I wanted to find, evil lookalikes followed by the expectation of positive regard, only to be crushed by the cruel truth "that is just a multi-vesiculated body". 
Mestre Nunes was always kind, somehow, he was different from the other 'doctors' of his generation, he always made me feel special, he was always supportive, and come what may, despite the huge professional gap that separated us, he always treated me like an equal. Chefe Pedro, was always direct, with no sugarcoating whatsoever, just the facts. A highway to skillset building. I guess making him proud was one of those challenges that fueled me, maybe because he was always so hard to impress. 
This work we did together, something between training me and executing a solution for a scientific question, was much bigger than anyone can ever imagine, the number of nanometers covered, the pile of glass slides and microscopy grids screened, the unbelievable amount of useless data produced, just to, in the end, present that one image, or a couple of images, showing that single cilia protruding in an almost impossible angle – oh the joy. After all, it might sound exaggerated, but going through something like this creates a sort of brotherhood, only we know. These two incredibly talented people are still to date, very good friends, and an acquired family. We still have fruitful discussions, and we still shiver together when confronted with the new electron microscopy advances, just like looking at something that almost died and was reborn from the ashes, like a Phoenix. Mestre Nunes's memory is failing him a little bit, but his eyes still sparkle when I tell him how far science is going, and how high that phoenix flies. 
I will finish with a story Mestre Nunes used to like to tell.
The Cockroach – a parable about making conclusions: 
A scientist once decided to prove that the ears of the cockroach are located in its legs.
So, he started conducting experiments.
He put a cockroach on a table and loudly clapped his hands.
The cockroach ran away.
Then the scientist tore one of the cockroach's legs and clapped his hands again.
The cockroach ran away once more.
Next, the scientist tore a second leg and clapped his hands loudly for the third time.
Though clumsily, the cockroach ran away yet again.
Then the scientist tore the third leg and clapped his hands loudly for one final time.
The cockroach remained in one place.
– See – now he is deaf! – concluded the scientist.
Lesson: Only facts are indisputable, not conclusions
Food for thought 🙂
If you want to see more of the daily life of a woman in science, please follow the Instagram page @cellfie_temgram and the twitter handle @cellfie_temgram – thanks!
Author
Andreia Pinto started as Biomedical Scientist in Histocellular Pathology but early refined her area of interest in Electron Microscopy. Dr. Pinto worked for more than ten years in a research institute in Lisbon, solo managing an electron microscopy department, taking in all sorts of projects: from fundamental to translational research. Started working in PCD in 2014 in Lisbon, and later moved to join the Royal Brompton research team in 2019, to work as a Thoracic Research Associate. Dr. Pinto was responsible for the training of a deep machine learning platform to recognize patterns in EM images of cilia in the diagnosis of PCD. She has also been involved in investigating new insights into Sars-CoV2 infection of the respiratory airway. Currently she has a position as a Workflow Application Specialist with Leica Microsystems and is based at the Imaging Centre of the European Molecular Biology Laboratory in Heidelberg.
SoapBox Science Lisbon 2022
On October 15th, from 3-6pm (GMT+1), our Soapbox Arena will be at FICA and we will host 9 local female scientists selected from a competitive pool of researchers. There will be three 1hr sessions, with three speakers per session, where they will be sharing their work in technology, science, medicine and engineering. The public audience, of all ages and backgrounds will not only have the opportunity to listen and learn from the speaker about their topic and perspectives, but also, will be able to directly interact with them, and ask questions to each scientist individually in a fun and sharing environment.
Classificação dos leitores