SoapBox Science Lisbon 2022 – Article by Inês Navalhas
Article by Inês Navalhas
🇵🇹 Versão portuguesa disponível aqui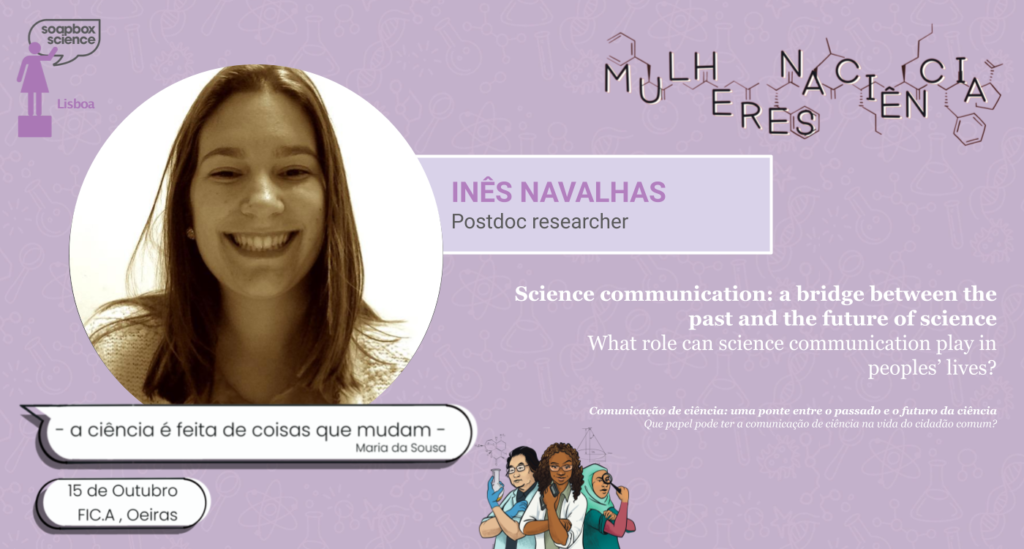 Science communication: a bridge between the past and the future of science
What role can science communication play in peoples' lives?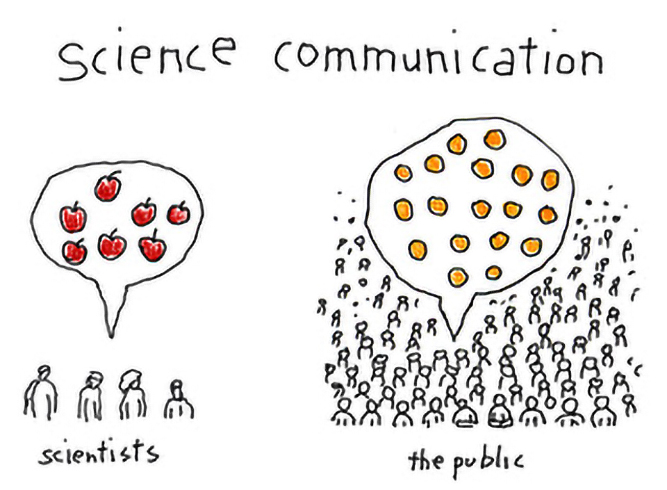 In history, there are several examples of the use and importance of science communication, and even of its implication for scientific practice itself. Often the "men of science" or, later, the scientists needed to explain their work to an audience that was not specialized, to secure funding for their work. This has happened since the Renaissance with Leonardo Da Vinci, but it also happens nowadays.
Although this practice contributes to science being a common good, it has not always been perceived this way throughout time. The division between scientists and the public, built particularly through a very professionalized and opaque language for the public, has alienated society and affected its perception of the scientists' work. However, understanding what is happening in science is as relevant to the non-specialist society as it should be for scientists to communicate their research to society, so that they (the non-specialist society)  are informed and can make informed decisions.
Literature, especially science fiction, has greatly enhanced the introduction of science into society and, consequently, the publics' familiarity with scientific topics. If, in the past, science communication showed its importance through literature, universal exhibitions and (rather limited) media coverage, today, after (or still in the middle of?) a pandemic, we realized its absolute value. Science communication has made it possible during this time for the public to stay informed, it has had an influence in explaining the fake news that have emerged, as well as the waves of misinformation, seen only a few times before.
Because of the pandemic of COVID-19, suddenly, the world was talking about science. The barriers built up over many years of professionalization and specialization, in this case of doctors and epidemiologists, fell. The specialized language was mandatorily "translated" so that the public could have access to the most up-to-date information and could act and make decisions based on that information.
Vaccines are an example that can be followed throughout the history of science communication up to the present day, with the work of scientists and, more recently (and with the creation of the profession), of science communicators. From the first vaccine in the 18th century until a few months ago, its development has always been shrouded in a mystique that needed to be addressed, communicated, and explained in an accessible way. 
The role of science communication over time is undeniable, although its recognition on a political level still has a way to go. For society to benefit from the information that results from the work of scientists, it is important to invest in science communication, regardless of the scientific area.
Author
Inês Nepomuceno Navalhas has a PhD in History, Philosophy and Heritage of Science and Technology, with a thesis on the communication and dissemination of science in Portugal, specifically through the books of Editora Gradiva in the last 40 years in Portugal. She then added her primary area of training, communication, and journalism, to the history of science and technology. During her PhD research, she discovered science communication, an area where she intends to stay and where she develops some projects (PubhD de Lisboa, Ciência em 3 Minutos, among others). The studies on science communication, on citizen science or on new ways of involving citizens in the practice and development of science are some of the many interests of the researcher. She is currently working on two European funded projects: NEWSERA-Citizen science as the new paradigm for science communication, where she works as Science Communication Manager and ENJOI: Engagement and Journalism Innovation for Outstanding Open Science Communication, belonging to the Portuguese team.
SoapBox Science Lisbon 2022
On October 15th, from 3-6pm (GMT+1), our Soapbox Arena will be at FICA and we will host 9 local female scientists selected from a competitive pool of researchers. There will be three 1hr sessions, with three speakers per session, where they will be sharing their work in technology, science, medicine and engineering. The public audience, of all ages and backgrounds will not only have the opportunity to listen and learn from the speaker about their topic and perspectives, but also, will be able to directly interact with them, and ask questions to each scientist individually in a fun and sharing environment.
Classificação dos leitores