O fracasso leva frequentemente a novas oportunidades de sucesso
Versão Portuguesa 🇵🇹
English version 🇬🇧
❉ Este artigo faz parte de uma série de artigos preparados pelas oradoras do evento Soapbox Science Lisbon. A segunda edição do Soapbox Science Lisbon, para promover as mulheres na ciência, terá lugar no dia 23 de Outubro de 2021. Guardem esta data!

O fracasso leva frequentemente a novas oportunidades de sucesso
Por Erin Tranfield
Ao crescer numa quinta, numa zona rural do Canadá, dormia ao ar livre nas noites quentes de Verão e perdia-me nas estrelas.  Em raras noites mágicas, a Aurora Boreal dançava no céu. O cobertor de estrelas, com as ocasionais estrelas cadentes que se espalhavam pelo céu, tirava-me o fôlego.  Deixava a minha mente vaguear pela via Láctea, pelos cantos mais distantes do nosso universo e comecei a sonhar com coisas espantosas.
Contudo, em todos esses sonhos nunca teria imaginado a viagem que iria fazer na minha vida. Se tivesse dito àquela rapariga da quinta que sonhava com cidades, arte e cultura que se apaixonaria pela ciência, obteria um doutoramento, ensinaria na China, trabalharia para a NASA, e depois mudar-se-ia para a Europa para eventualmente dirigir uma Unidade de Imagiologia em Portugal; ela ter-se-ia rido da sua história louca.  Como poderia isso acontecer? Como poderia começar tal viagem?  No entanto, foi o que fiz, um passo de cada vez.
O meu percurso profissional pode parecer muito aleatório. Pode ser difícil ver as pontes entre todos os passos, até eu vos dizer que, muitas vezes, tomei decisões baseadas em pura excitação. Escolhi projectos, escolas e desafios, apenas porque estava interessada neles, e porque cada oportunidade me parecia fascinante e fixe. Por vezes, até me disseram para não tomar certas decisões, mas o meu coração e o meu entusiasmo guiaram as minhas escolhas, e aqui estou eu.
Devo também dizer-vos que o meu primeiro plano morreu numa pilha de cartas de rejeição.  Ia tornar-me médica, ajudar pessoas; ia deixar os meus pais orgulhosos por ser a primeira médica da nossa família.  Era um grande plano, até ter sido rejeitada por várias escolas médicas. Não tinha previsto aquele obstáculo. Foi doloroso.  Mas depois de algumas lágrimas, comecei uma nova viagem, uma viagem que me levaria até onde estou hoje, muito feliz e com pais muito orgulhosos.  Assim, embora esse fracasso tenha sido um desafio, fiz o que passei a fazer muitas vezes desde então – quando encontro uma barreira, um bloqueio na estrada, ou uma resposta negativa, paro e olho para a esquerda e direita ao encontro de outras oportunidades. Quando uma oportunidade capta o meu interesse vou em busca dela.  Foram os desvios à esquerda e à direita face a falhas inesperadas que me trouxeram até onde estou hoje.
Hesito em sugerir que sou sábia – fazendo escolhas sábias e escolhendo caminhos sábios – porque honestamente, sinto-me afortunada, e sinto que a minha vida me escolheu. Parece que, de alguma forma, não fiz muito para gerar este resultado.  É provavelmente a minha voz de Síndrome de Impostor que fala. (Se não conhece a Síndrome de Impostos, por favor consulte-a agora mesmo.  Deve conhecer a Síndrome de Impostor, reconhecê-la dentro de si e combatê-la, tal como eu estou prestes a fazer). Portanto, calando essa voz interior, deixe-me tentar partilhar consigo alguma sabedoria.
Ponto 1:
Um doutoramento soa a um estudo extremamente profundo de um tema, mas para mim, é muito mais do que isso.  Ao longo dos anos, a minha perspectiva mudou, e agora penso que o principal objectivo de um doutoramento é formar a mente para pensar de forma crítica, sistemática e, no entanto, criativa. Um doutoramento deve ensinar como comunicar as suas ideias em formatos escritos e orais, como defender as suas ideias de uma forma lógica e sistemática e como avaliar o trabalho dos outros para ver se se confia e concorda com as conclusões dos autores. Um doutoramento é menos sobre o tema que está a ser estudado e mais sobre a viagem intelectual que deve percorrer para se tornar num/a especialista num tema. Se percorrer esse caminho com uma mente aberta, e vontade de aprender, desenvolverá competências que poderá aplicar a todos os aspectos da sua vida.
A minha recomendação é encontrar um/a supervisor/a de doutoramento que gostaria de igualar em termos de estilo de pensamento, comunicação, e abordagem de liderança. A combinação óptima é um projeto de investigação que ache fascinante enquanto é mentorado/a por uma pessoa que gostaria de seguir como modelo. Contudo, se tiver de escolher, valorize mais a qualidade do seu mentor do que o interesse do trabalho, porque o mentor que escolher definirá muito do seu futuro como cientista e, em última análise, como ser humano.
Ponto 2:
Os seus amigos e família são o seu segundo activo mais forte. Qual é o primeiro? – Você! Tem que tomar conta de si porque, se não o fizer, ninguém o fará. E depois de ter tomado conta de si, cuide da sua comunidade.  Sim, é bom perder um evento por uma experiência, mas não perca todos os eventos. Não falte a todos os aniversários ou aos dias da mãe ou às viagens da família. Os seus amigos e a sua família devem ser a sua fundação. Pense desta forma – nenhum cientista morreu a pensar "Eu devia ter feito mais um Western Blot", mas podem ter lamentado demasiados Western Blots por causa da festa de aniversário da mãe quando a perderam.
Ponto 3:
Deixe que o seu entusiasmo guie a sua viagem. Recentemente tomei conhecimento de um estudo fascinante que mostrou que os cientistas de grande sucesso saltam frequentemente tópicos e têm alguns passatempos de muito alto nível.  Se quiser saber mais, ouça o TED Talk de Tim Harford sobre multitarefas. Ele resume muito bem este trabalho. A questão aqui, é que não precisa de se cingir a um tópico durante toda a sua carreira científica. Siga o seu entusiasmo – isso irá torná-lo um cientista e uma pessoa melhor e mais feliz.
Ponto 4:
A vida de um cientista é um mundo internacional de oportunidades! Sou canadiana, casada com um marido suíço, e mãe de gatos e coelhos portugueses. Tenho amigos e colegas em todos os continentes (até mesmo, por vezes, na Antárctida, se lá estiverem a trabalhar). Conheço artistas e músicos espantosos, cientistas e exploradores.  Sou amiga de algumas pessoas que chegaram mesmo a chamar a Estação Espacial Internacional de casa por um curto período de tempo. O facto de fazer parte da comunidade científica global e intercultural levou a esta diversidade na minha comunidade. Torna a minha vida muito mais rica em muitos níveis diferentes e é uma das minhas partes favoritas de ser um cientista.
A minha mensagem é esta: Uma vida na ciência é uma coisa espantosa.  Há alguns desafios sim – mas é uma viagem surpreendente que irá mudar a sua abordagem ao pensamento e à vida.  Como todas as viagens, o caminho não é recto e claro, haverá bloqueios de estradas, inversões de marcha, e muitas mudanças no seu plano. Isto faz parte da aventura – aprenda a rolar com esses desafios e tornar-se mais forte por causa deles. Seja flexível, seja curioso/a, mas acima de tudo, seja apaixonado/a e bondoso/a!
Autora:

Erin Tranfield é uma cientista nascida no Canadá, casada com um homem suíço multi-talentoso. Ela adora jardinagem, desportos ao ar livre, viagens e é mãe de dois gatos e três coelhos.  Ela teria adorado ser mãe de humanos, mas uma lesão na medula espinal fechou esse capítulo da sua vida.  Erin está sediada em Portugal no Instituto Gulbenkian de Ciência onde construiu e dirige agora o Núcleo de Microscopia Electrónica.  É a atual presidente da Sociedade Portuguesa de Microscopia (SPMicros) e perita mundialmente reconhecida em microscopia electrónica sobre amostras biológicas. Erin tirou as primeiras imagens de Sars-Cov 2 em Portugal.  A sua palestra em Soapbox terá foco na microscopia electrónica, e espera partilhar convosco este mundo mágico que vos permite ver bem o interior das células. 
❉ ❉ ❉
Organização: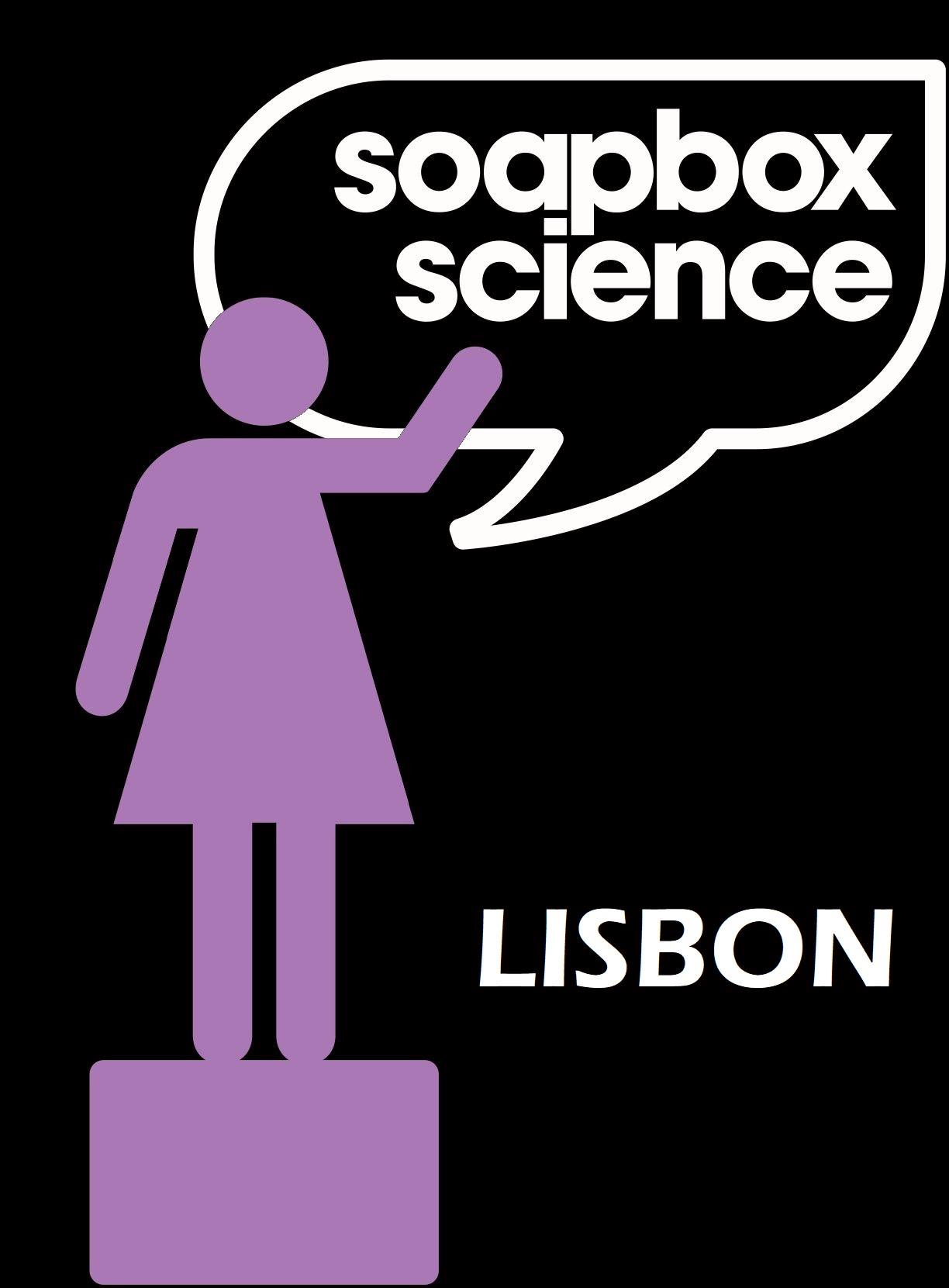 Email: soapboxscience.lisbon@gmail.com
Em colaboração com:
❉ This article is part of a series of articles prepared by the speakers at the Soapbox Science Lisbon event. The second edition of Soapbox Science Lisbon, to promote women in science, will happen on 23rd of October 2021. Save the date!

Failure often leads to new opportunities for success
By Erin Tranfield
Growing up on a farm in a rural area of Canada, I would sleep outside on hot summer nights and get lost in the stars above me.  On rare magical nights, the northern lights would dance in the sky. The blanket of stars with the occasional shooting star streaking far overheard took my breath away.  I would let my mind wander past the milky way and out to the far corners of our universe and I began to dream of amazing things.
And yet, in all those dreams I never would have imagined the journey I would take in my life. If you had told that farm girl; who dreamed of cities and art and culture that she would fall in love with science, get a PhD, teach in China, work for NASA, and then move to Europe to eventually run an imaging facility in Portugal; she would have laughed at your crazy story.  How could that happen? How could I start such a journey?  And yet, that is what I have done, one step at a time.
My career path can seem very random.  It might be hard to see the bridges between all the steps, until I tell you that often I have made decisions based on pure excitement. I picked projects, schools and challenges because I was interested in them and I thought each opportunity sounded fascinating and cool. Sometimes I was even told not to make certain decisions, but my heart and my enthusiasm guided my choices, and here I am.
I should also tell you that my first plan died in a pile of rejection letters.  I was going to become a medical doctor, help people, and I was going to make my parents proud by being the first doctor in our family.  It was a great plan until I was rejected by several medical schools.  I had not anticipated that speed bump. It was a painful one.  But after a few tears I started a new journey, one that would lead me to today and to a place where I am very happy and with very proud parents.  So, although that failure was a challenge, I did what I have done many times since then – when I meet a failure, a roadblock, or a negative response, I stop and look left and right for other opportunities. When an opportunity grabs my interest, I go for it.  It has been those left and right turns at unexpected failures that have brought me to where I am today.
I hesitate to suggest I am wise – making wise choices and choosing wise avenues – because honestly, I feel fortunate, and I feel like my life chose me. It feels as if somehow, I did not do a lot to create this outcome.  That is probably my Imposter Syndrome voice speaking. (If you do not know about Imposter Syndrome, please look it up right now.  You should know about Imposter Syndrome and recognize it within yourself and fight it, just as I am about to do.) So, putting that inner voice on mute, let me try to share some wisdom with you.
Point 1:
A PhD sounds like an extremely in-depth study of a topic, but to me, it is much more than that.  Over the years, my perspective has changed, and I now think that the main purpose of a PhD is to train your mind how to think critically, systematically, and yet creatively. A PhD should teach you how to communicate your ideas in written and oral formats, how to defend your ideas in a logical, systematic way and how to evaluate the work of others to see if you trust and agree with the conclusions of the authors.  A PhD is less about the topic you are studying and more about the intellectual journey you must travel to become an expert in a topic.  If you travel that path with an open mind, and a willingness to learn, you will develop skills you can apply to every aspect of your life.
My recommendation is to find a PhD supervisor you would like to emulate in terms of thinking style, communication, and leadership approach.  The optimal combination is a research project you find fascinating while being mentored by a person whom you would like to model.  However, if you must choose, value the quality of your mentor higher than the interest of the work, because the mentor you select will define so much of your future as a scientist, and ultimately as a human being.
Point 2:
Your friends and family are your second strongest asset.  What is your first? – You!  You need to take care of yourself because if you don't, no one will. And after you are done taking care of yourself, take care of your community.  Yes, it is ok to miss an event for an experiment, but don't miss all the events. Don't miss all the birthdays, or Mother's days or family trips.  Your friends and your family should be your foundation. Think of it this way – no scientist died thinking "I should have just done one more Western Blot" but they might have regretted too many Western Blots over Mom's birthday party when they lose their mom.
Point 3:
Let your enthusiasm guide your journey.  Recently I learned about a fascinating study that showed that highly successful scientists often jump topics and have some very high-level hobbies.  If you want to know more, listen to the TED Talk by Tim Harford about multitasking. He very nicely summarizes this work.  The point here is you do not need to stick to one topic for your entire scientific career. Follow your enthusiasm – it will make you a better and happier scientist and person.
Point 4:
The life of a scientist is an international world of opportunity! I am Canadian born, married to a Swiss Man, and the mom of Portuguese cats and rabbits.  I have friends and colleagues on every continent (even sometimes Antarctica if they are working there).  I know amazing artists and musicians, scientists and explorers.  I am friends with a few people who have even called the International Space Station home for a short time.  Being part of the global, intercultural scientific community has led to this diversity in my community.  It makes my life so much richer on many different levels and it is one of my favourite parts of being a scientist.
My take home message is this: A life in science is an amazing thing.  There are some challenges yes – but it is an amazing journey that will change your approach to thinking and life.  Like all journeys, the path is not straight and clear, there will be roadblocks, U-turns, and many changes of your plan.  This is part of the adventure – learn to roll with these challenges and you will become stronger because of them. Be flexible, be curious but above all, be passionate and kind!
Author:

Erin Tranfield is a Canadian born scientist who is married to a multi-talented Swiss man. She loves gardening, outdoor sports, travel and she is the mom of two cats and three rabbits.  She would have loved to be a mom to humans, but a spinal cord injury closed that chapter in her life.  Erin is based in Portugal at the Instituto Gulbenkian de Ciência where she built and now leads the Electron Microscopy Core Facility.  She is the current president of the Portuguese Microscopy Society (SPMicros) and a world-recognized expert in electron microscopy on biological samples. Erin took the first images of Sars-Cov2 in Portugal.  Her Soapbox talk with focus on electron microscopy, and she hopes to share with you this magical world that lets you see deep inside cells.
❉ ❉ ❉
Organizers: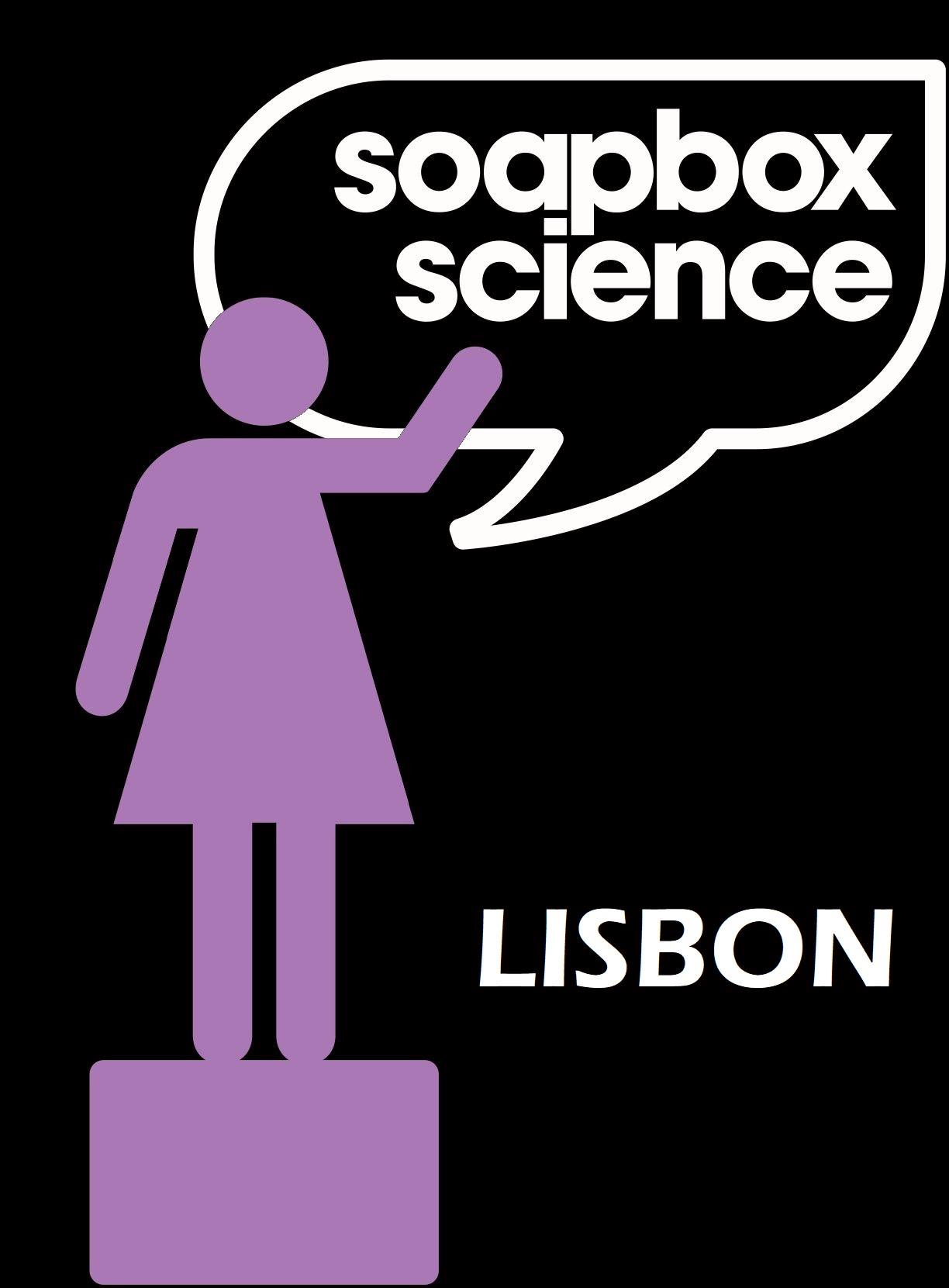 Email: soapboxscience.lisbon@gmail.com
In collaboration with:
Classificação dos leitores