Contra as probabilidades: como uma farmacêutica se tornou numa bioinformática
Versão Portuguesa 🇵🇹
English version 🇬🇧
❉ Este artigo faz parte de uma série de artigos preparados pelas oradoras do evento Soapbox Science Lisbon. A segunda edição do Soapbox Science Lisbon, para promover as mulheres na ciência, terá lugar no dia 23 de Outubro de 2021. Guardem esta data!

Contra as probabilidades: como uma farmacêutica se tornou numa bioinformática
Por Sandra Godinho Silva
Escrevo este texto com uma ideia em mente: se pudesse voltar 10 anos atrás, o que é que eu diria à Sandra mais nova? Que conselhos é que poderiam ter feito a diferença no percurso profissional e académico desta aspirante cientista? E, regressando à realidade, o que é que eu aprendi nos últimos anos que considero ser merecedor de ser partilhado?
Há dez anos encontrava-me a terminar o ensino secundário. Cheia de energia, vontade de conquistar o mundo e acima de tudo, vontade de acertar nas decisões que, em breve, me esperavam. Sabia apenas que o meu caminho tinha de se centrar à volta da ciência, pois desde cedo o fascínio pelo desconhecido e pela descoberta me definiam. No entanto, o curso certo para mim era uma verdadeira incógnita. Como seria de esperar, fui à procura de conselhos nas pessoas à minha volta e, nesta jornada de procura, fui ouvindo muitas vezes palavras como biologia, medicina, farmácia…. Sendo boa aluna e tendo tanta vontade de seguir o rumo mais acertado para a minha vida, aceitei de bom grado estas sugestões e ingressei no ensino superior. Tinha escolhido o Mestrado Integrado em Ciências Farmacêuticas, na Universidade de Lisboa.
Os meus anos de faculdade foram calmos e agradáveis. Tive a oportunidade de rapidamente começar a fazer investigação em microbiologia e aprendi muito com esta experiência. No final do curso, fiz um estágio científico em Bona, na Alemanha, através do programa Erasmus. Durante este período iniciei-me na área dos produtos naturais, especificamente na procura de potenciais fármacos em, imaginem bem, bactérias que vivem em esponjas marinhas! Voltei deste estágio super entusiasmada, e quaisquer dúvidas que ainda restassem tinham-se dissipado: o próximo passo seria o doutoramento.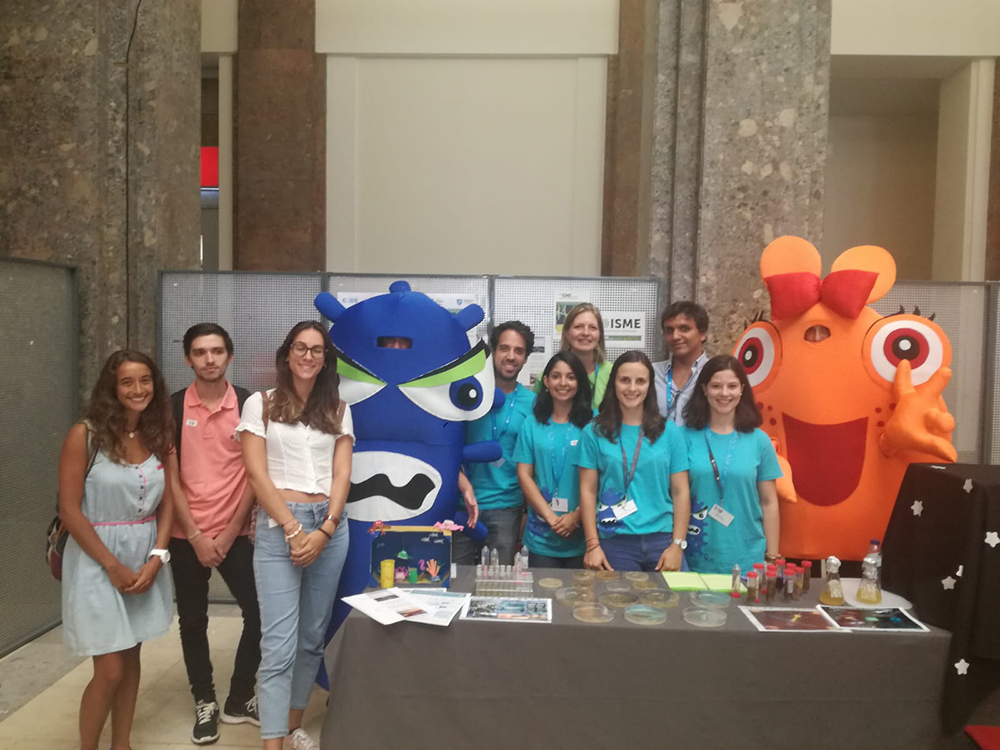 Mais uma vez, saí à procura e a sorte sorriu-me. Entrei em contacto com o Prof. Rodrigo Costa, que recentemente tinha transferido o seu grupo de investigação do Algarve para Lisboa, bem pertinho de mim, para o Instituto Superior Técnico.  A sua linha de investigação, focada no estudo de microbiomas de invertebrados, como esponjas e corais marinhos, encaixava perfeitamente nos meus gostos, e ele teve todo o gosto em receber-me como aluna de doutoramento. Depois de alguma luta para conseguir uma bolsa de doutoramento, entrei em 2018 no doutoramento em Biotecnologia e Biociências, no Instituto de Bioengenharia e Biociências (IBB), apoiada pelo programa doutoral em Microbiologia Aplicada e Ambiental (DP_AEM).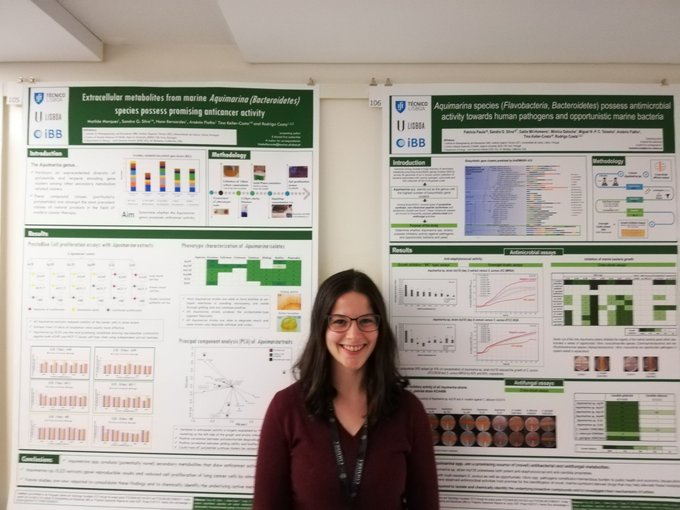 Finalmente o meu sonho tinha-se concretizado: era uma cientista. Até este momento, encontrava-me perfeitamente satisfeita com as minhas escolhas. No entanto, mal eu sabia que estava prestes a descobrir a minha verdadeira paixão…No início do meu doutoramento, comecei a trabalhar na comparação do ADN de diferentes bactérias. Existem muitas ferramentas que podemos usar para este efeito, mas estas pareciam-me demasiado repetitivas. Comecei a pensar: e se eu automatizar estes processos? Foi aí, que o bichinho apareceu na minha mente: e se eu tentar aprender a escrever uma ou duas linhas de código para este efeito? Começando com algumas (das imensas!) ferramentas de ensino online, a pouco e pouco fui aprendendo Python. E, a pouco e pouco, fui ficando cada vez mais interessada! Quando dei por mim estava também a aprender a navegar no sistema operativo Linux ou a fazer complexos gráficos em R. Foram muitas noites de insistência, de constante batalha para compensar o meu inexistente background em informática. Mas, ao mesmo tempo, foram também muitas noites de autoconhecimento. Encontrei em mim uma energia que desconhecia e a certeza de que, com o trabalho e persistência certos, seria capaz de entrar numa área completamente nova e, mesmo assim, triunfar.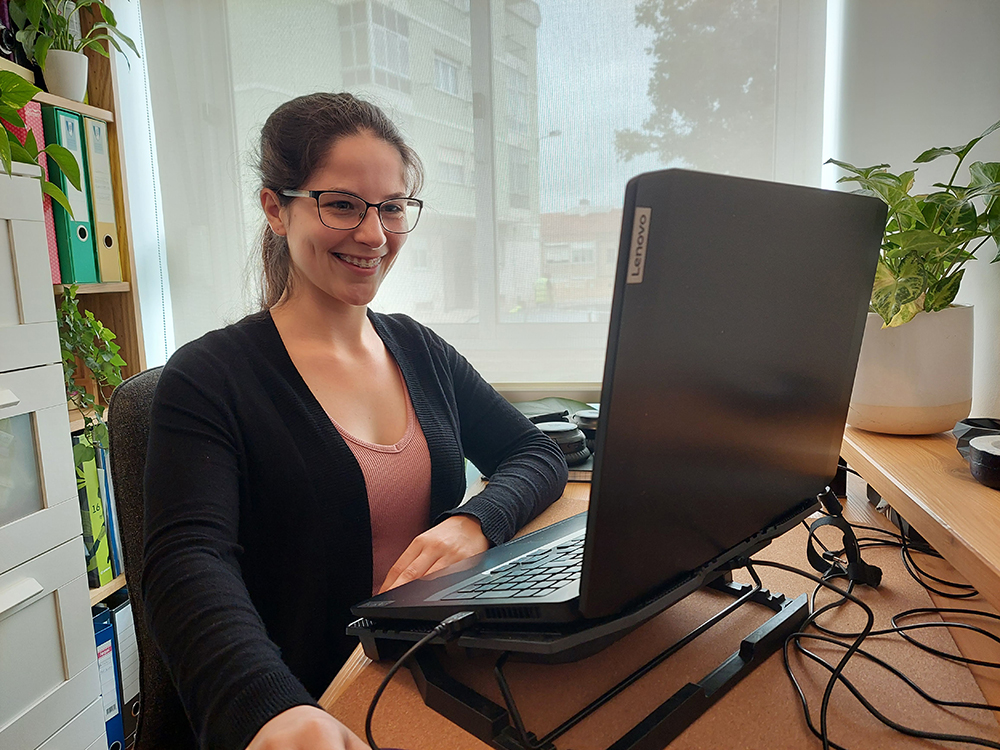 Chegamos finalmente ao presente, ano 2021, em que me encontro prestes a terminar o terceiro ano de doutoramento. Tenho tido a oportunidade de aplicar diariamente todas estas novas competências na minha investigação. Pelo caminho vou continuando a trabalhar em total interdisciplinaridade, tocando em áreas tão distintas como a microbiologia, a química analítica e a biologia computacional. Quanto ao meu futuro, sei que quero continuar a trabalhar na área da bioinformática e continuar a explorar as enormes potencialidades de aplicar a ciência de dados a áreas tão distintas como a biotecnologia, a ecologia microbiana ou até mesmo à descoberta de novos fármacos!
Sentindo eu tanta felicidade em programar, interrogo-me: e se simplesmente nunca tivesse surgido o contacto inicial com a informática? Teria passado uma vida inteira sem explorar uma área que me dá imenso prazer. E questiono-me também: e se durante o ensino secundário alguém me tivesse falado dessa possibilidade? E se eu não tivesse o preconceito gravado em mim, que a programação pertence ao mundo masculino? Estas questões são a verdadeira razão que me leva a estar aqui hoje, no Soapbox Science Lisboa, a falar convosco. A minha história é feliz, mas obriga-me a pensar que facilmente poderia ter sido diferente. E essa será a história de algumas raparigas que, por se sentirem intimidadas ou simplesmente, sem meios, para ocupar trabalhos que parecem ser mais "masculinos", deixam de aproveitar oportunidades de concretização pessoal e profissional. É necessário desmistificar a existência de trabalhos para homens e trabalhos para mulheres. É necessário assegurarmo-nos que o aconselhamento prestado aos alunos no momento crítico da escolha do curso superior não diverge consideravelmente consoante o género! Alguém devia ter-me dito que também era uma hipótese interessante escolher, por exemplo, engenharia.
Voltando ao início: se pudesse voltar 10 anos atrás, o que é que eu diria à Sandra mais nova? Talvez a aconselhasse a não olhar para o mundo numa perspetiva dual e a encorajasse a pensar um pouco mais fora da caixa. Quem sabe se o desconhecido não lhe traria algumas felizes surpresas! Contar-lhe-ia que em dez anos as coisas não se encontram muito diferentes, mas que aos poucos vão mudando. Gradualmente vão surgindo mais exemplos de mulheres em trabalhos dominados por homens, mulheres que todos os dias se superam e, contra algumas expectativas, triunfam. Mulheres que, por acaso do destino, passam de farmacêuticas a bioinformáticas!
Autora: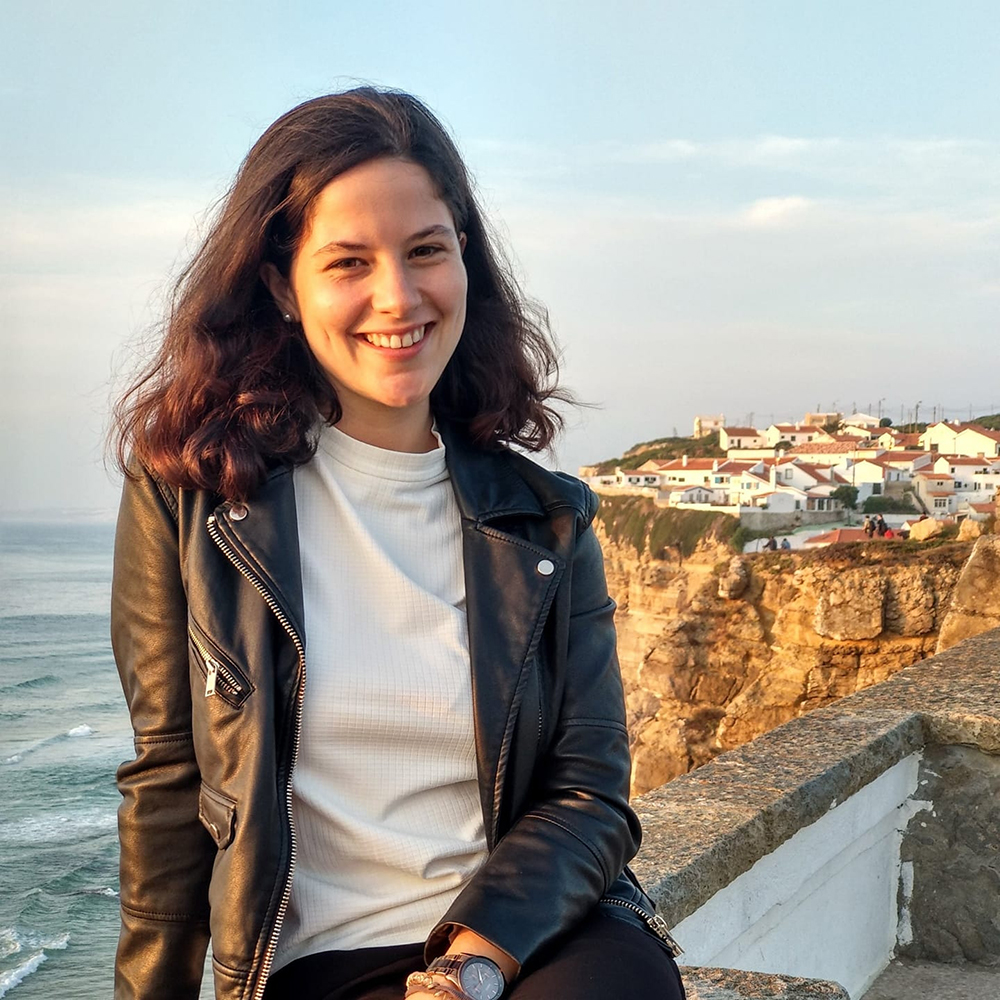 Sandra Godinho Silva é investigadora e aluna de doutoramento no Instituto de Bioengenharia e Biociências, no Instituto Superior Técnico. Iniciou a sua formação superior com o Mestrado Integrado em Ciências Farmacêuticas, que finalizou em 2017. Os seus primeiros passos no mundo da investigação foram dados na área da microbiologia no Instituto de Investigação do Medicamento (iMed.ULisboa) associado à Faculdade de Farmácia da Universidade de Lisboa (FFUL). O trabalho apresentado na sua dissertação de mestrado foi realizado na Universidade de Bonn, sob a orientação do Prof. Till Schäberle, focando-se na procura de produtos naturais em esponjas marinhas. A Sandra encontra-se agora no grupo MicroEcoEvo, sob a orientação do Prof. Rodrigo Costa e da Dra. Tina Keller-Costa, a estudar um gênero bacteriano marinho:  Aquimarina. Combinando noções de microbiologia, genómica e química com ferramentas bioinformáticas, a Sandra explora o metabolismo secundário de microrganismos com o objetivo de descobrir moléculas com potencial atividade terapêutica. Durante o seu doutoramento já realizou um período de investigação focado em ciência dos dados no Helmholtz Centre for Environmental Research – Leipzig – sob a orientação do Dr. Ulisses Nunes da Rocha e passará os últimos meses deste ano na ETH Zurich, no grupo de investigação coordenado pelo Dr. Jörn Piel, a complementar a sua formação na área da química analítica.
Para mais informações:
https://sandragodinhosilva.netlify.app/
https://www.linkedin.com/in/sandragodinhosilva/
https://orcid.org/0000-0002-4763-0662
Para saberem mais sobre o grupo de investigação Microbial Ecology and Evolution Research Group (MicroEcoEvo), a que a Sandra pertence:
https://www.facebook.com/MicroEcoEvo
❉ ❉ ❉
Organização: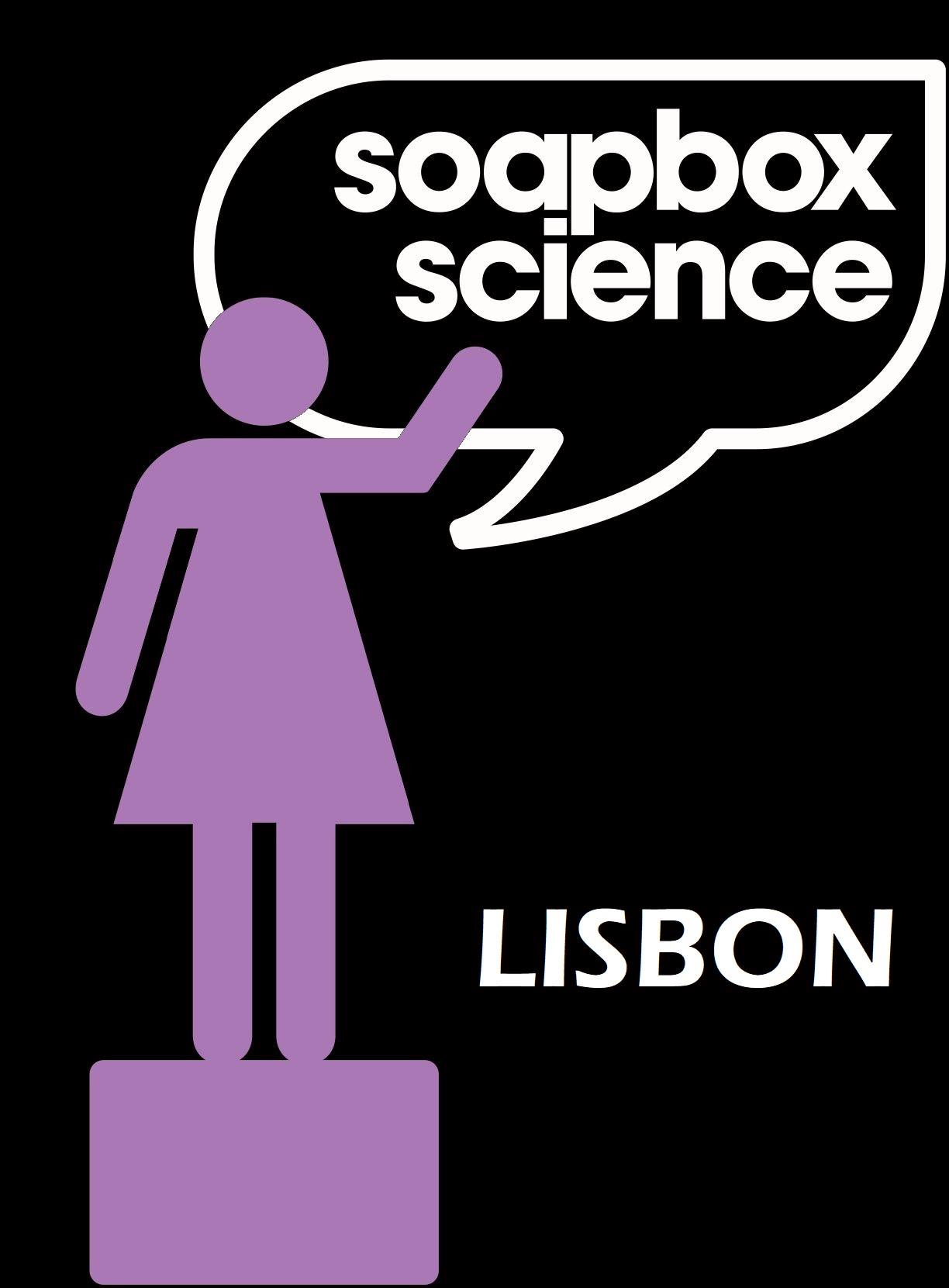 Email: soapboxscience.lisbon@gmail.com
Em colaboração com:
❉ This article is part of a series of articles prepared by the speakers at the Soapbox Science Lisbon event. The second edition of Soapbox Science Lisbon, to promote women in science, will happen on 23rd of October 2021. Save the date!

Against the odds: how a pharmacist became a bioinformatician
By Sandra Godinho Silva
I am writing this text with an idea in mind: if I could go back 10 years, what would I say to the younger Sandra? What advice would have made a difference in the professional and academic path of this aspiring scientist? And, coming back to reality, what have I learnt in recent years that I think is worthy of being shared?
Ten years ago, I was finishing high school. Full of energy, willingness to conquer the world and above all, commitment to make the right decisions that would soon be before me. I only knew that my path had to be centered around science because the fascination for the unknown and for discovery really defined me from an early age. However, the right course for me was a real mystery. As expected, I looked for advice from the people around me and in this journey, I often heard words such as biology, medicine, pharmacy… As I was a good student, eager to follow the right path for my life, I gladly accepted these suggestions and moved on to higher education. I had chosen the Integrated Masters in Pharmaceutical Sciences at the University of Lisbon.
My college years were calm and enjoyable. I had the opportunity to quickly start doing research in microbiology and I learned a lot from this experience. At the end of the degree, I did a scientific internship in Bonn, Germany, through the Erasmus program. During this period, I started to explore the area of ​​natural products, specifically looking for potential drugs in, go figure, bacteria that live in marine sponges! I came back from this internship super excited and any doubts that still remained had disappeared: the next step would be the PhD.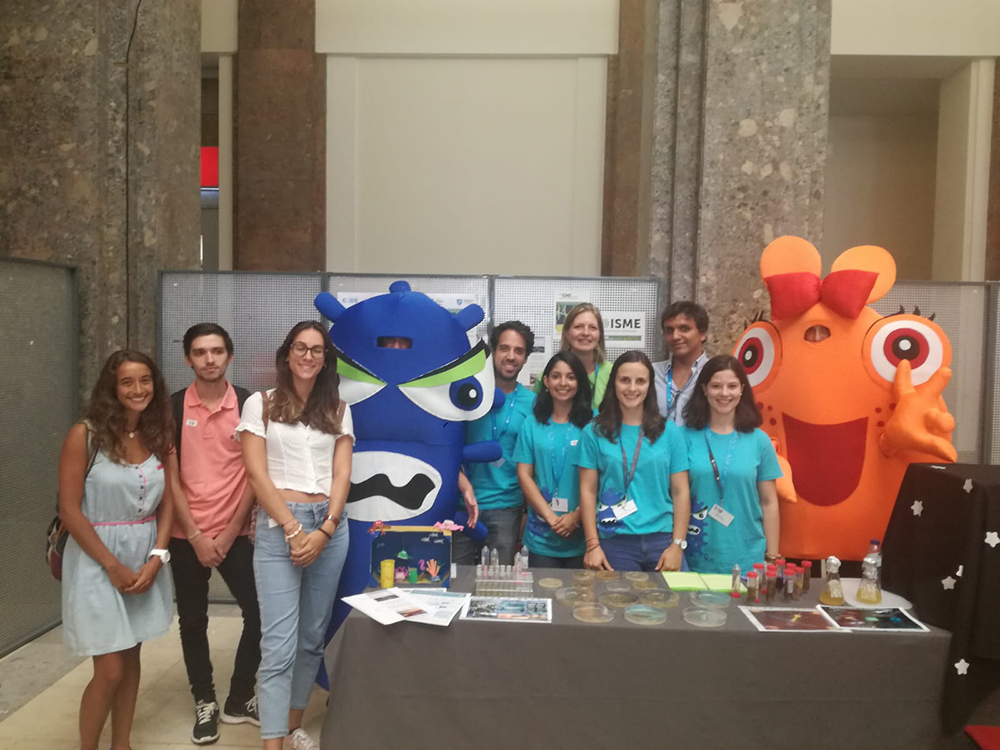 Once again, I went looking and my good fortune delivered once again. I got in touch with Prof. Rodrigo Costa, who had recently transferred his research group from Algarve to Lisbon, very close to me, to Instituto Superior Técnico. His line of research, focused on the study of invertebrate microbiomes, such as sponges and marine corals, fitted my interests perfectly and he was happy to welcome me as a PhD student. After some struggle to get a PhD scholarship, in 2018 I entered the PhD in Biotechnology and Biosciences, at Institute of Bioengineering and Biosciences (IBB), supported by the doctoral program in Applied and Environmental Microbiology (DP_AEM).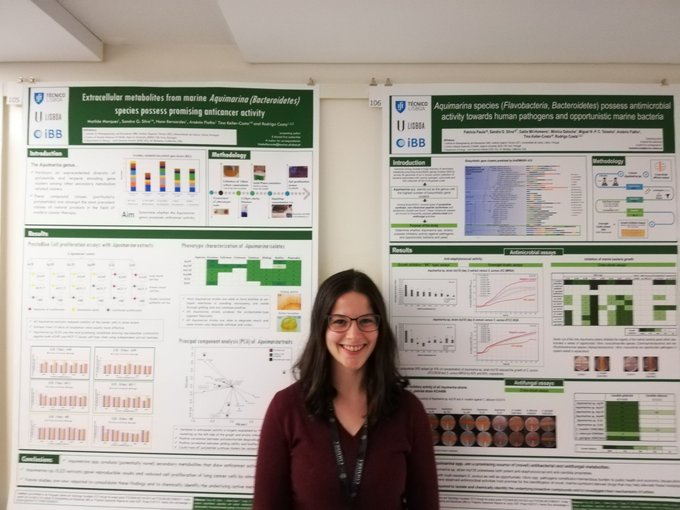 Finally, my dream had come true: I was a scientist. Until this moment, I was perfectly satisfied with my choices. However, little did I know that I was about to discover my true passion… At the beginning of my PhD, I started working on the comparison of DNA from different bacteria. There are many tools we can use for this purpose, but these seemed too repetitive to me. I started thinking: what if I automate these processes? That is when the idea popped into my mind: what if I try to learn to write a line or two of code for this purpose? Starting with some (of the many!) online teaching tools, little by little I learned Python. And, little by little, I became more and more interested! When I realized, I was also learning to navigate the Linux operating system or to make complex graphics in R. There were many nights of insistence, of constant battle to compensate for my non-existent computer background. But at the same time, there were also many nights of self-discovery. I found in myself the energy that I did not know existed and the certainty that, with the right work and persistence, I would be able to enter a completely new area and still triumph.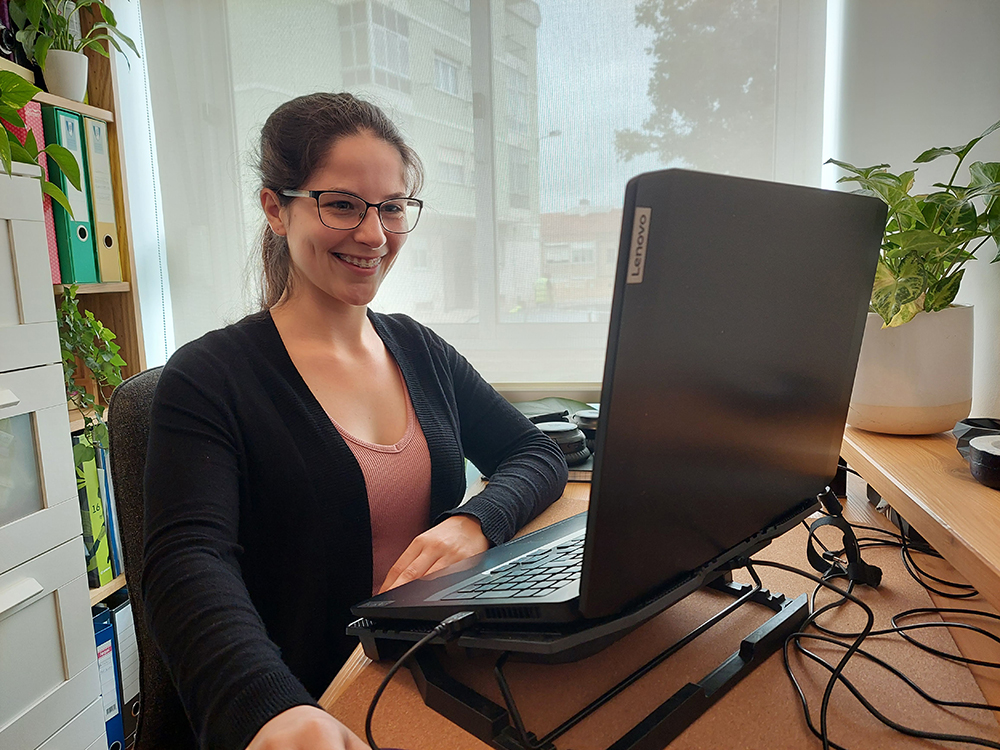 We finally arrive at the present, year 2021, in which I am about to finish the third year of my PhD. I have had the opportunity to apply all these new skills in my research on a daily basis. Along the way, I continued to work in total interdisciplinarity, touching upon areas as different as microbiology, analytical chemistry and computational biology. As for my future, I know that I want to continue working in the area of ​​bioinformatics and continue to explore the enormous potential of applying data science to areas as diverse as biotechnology, microbial ecology or even the discovery of new drugs!
Feeling so happy about programming, I ask myself: what if this initial contact with computers had simply never come? I would have gone a lifetime without exploring an area that gives me immense pleasure. And I also ask myself: what if during high school someone mentioned this possibility to me? And if I did not include the prejudice etched in me, that this activity belongs to the male world? These questions are the real reason why I am here today, at Soapbox Science Lisboa, talking to you. My story is happy, but it forces me to think that it could have been different. And that will be the story of some girls who, because they feel intimidated or simply lack the means to occupy jobs that seem to be more "masculine", will not have opportunities for personal and professional fulfillment. It is necessary to demystify the existence of jobs for men and jobs for women. It is necessary to ensure that the advice given to students at the critical moment of their choice of higher education does not differ significantly depending on gender! Someone should have told me that it was also an interesting hypothesis to choose, let's say, engineering.
Going back to the beginning: if I could go back 10 years, what would I say to the younger Sandra? Perhaps, I would encourage her not to look at the world from a dual perspective and to think a little more outside the box. Who knows if the unknown would bring her some happy surprises! I would tell her that in ten years things were not very different, but that little by little they were changing. Gradually, there are more examples of women in works dominated by men, women who every day surpass themselves and, against some expectations, triumph. Women who, by chance, change from being a pharmacist to being a bioinformatician!
Author: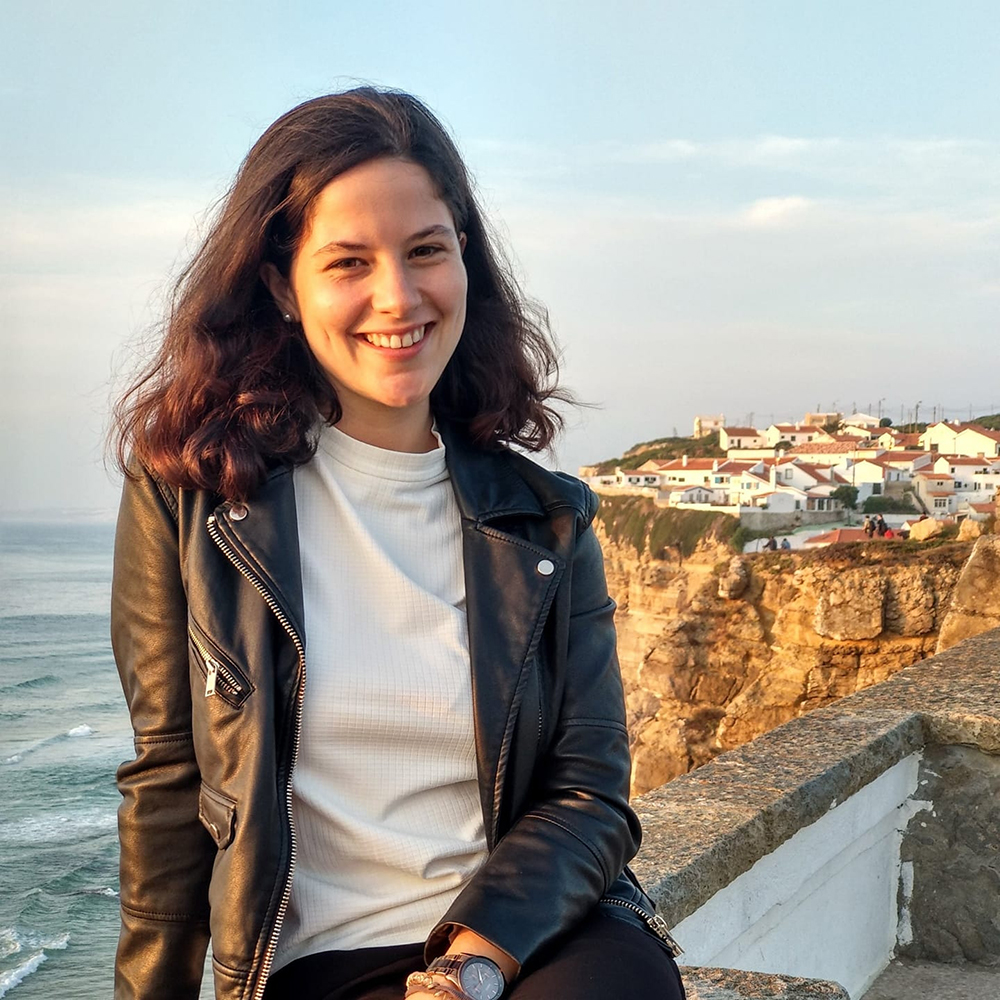 Sandra Godinho Silva is a researcher and PhD student at the Institute of Bioengineering and Biosciences, at Instituto Superior Técnico. She began her higher education with the Integrated Master in Pharmaceutical Sciences, which she completed in 2017. Her first steps in the world of research were taken in the area of ​​microbiology at the Instituto de Investigação do Medicamento (iMed.ULisboa) associated with the Faculty of Pharmacy of the University of Lisbon (FFUL). The work presented in her master's thesis was carried out at the University of Bonn, under the guidance of Prof. Till Schäberle, focusing on the search for natural products in marine sponges. Sandra is now in the MicroEcoEvo group, under the guidance of Prof. Rodrigo Costa and Dr. Tina Keller-Costa, studying a marine bacterial genus: Aquimarina. Combining notions of microbiology, genomics and chemistry with bioinformatics tools, Sandra explores the secondary metabolism of microorganisms with the aim of discovering molecules with potential therapeutic activity. During her PhD, she has already carried out a period of research focused on data science at the Helmholtz Center for Environmental Research – Leipzig – under the guidance of Dr. Ulisses Nunes da Rocha and will spend the last months of this year at ETH Zurich, in the coordinated research group by Dr. Jörn Piel, to complement her training in the field of analytical chemistry.
For more information:
https://sandragodinhosilva.netlify.app/
https://www.linkedin.com/in/sandragodinhosilva/
https://orcid.org/0000-0002-4763-0662
To find out more about the Microbial Ecology and Evolution Research Group (MicroEcoEvo), to which Sandra belongs:
https://www.facebook.com/MicroEcoEvo
❉ ❉ ❉
Organizers: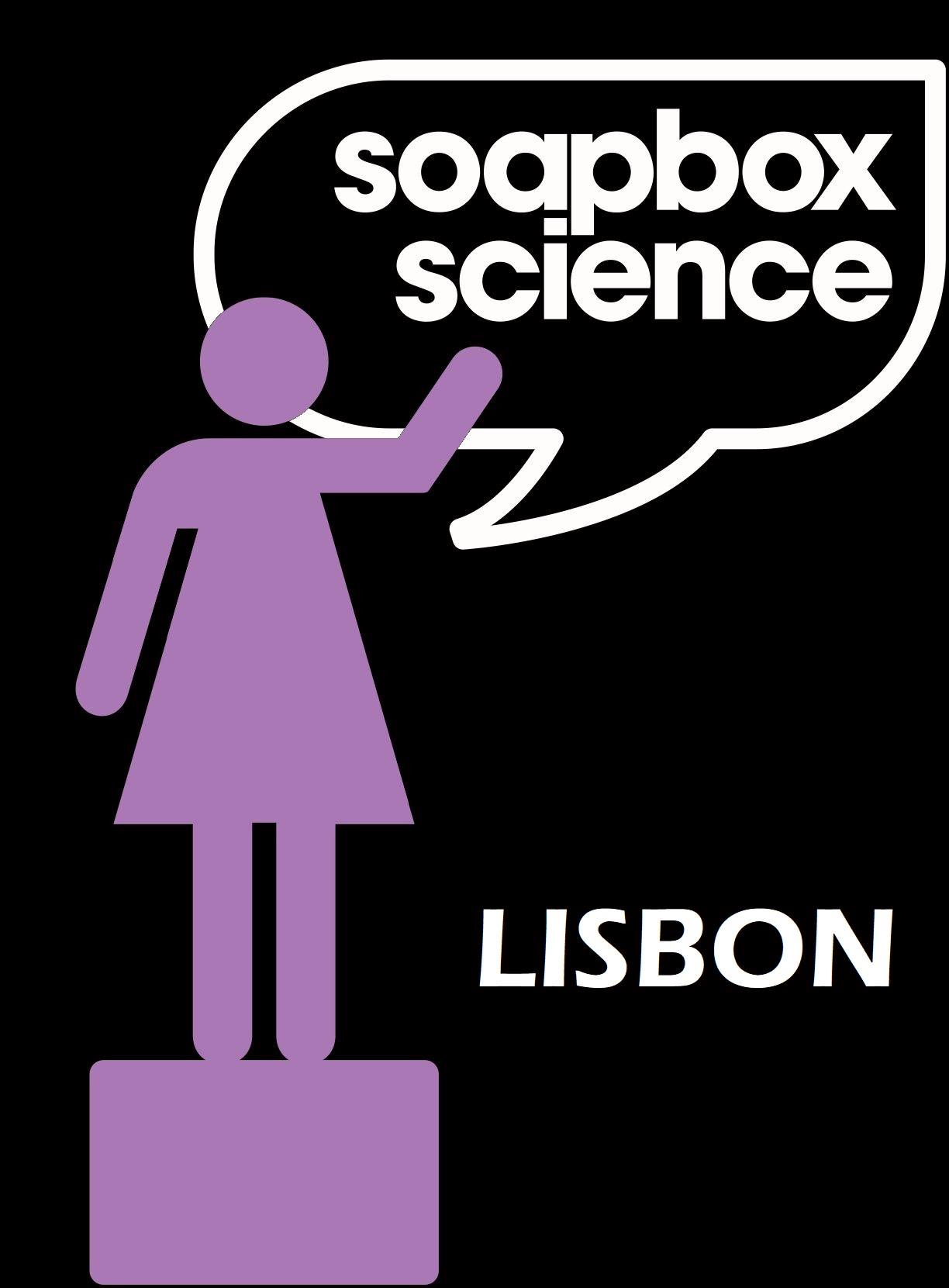 Email: soapboxscience.lisbon@gmail.com
In collaboration with:
Classificação dos leitores