O que são plantas invasoras? Inva… quê?
Versão Portuguesa 🇵🇹
English version 🇬🇧
❉ Este artigo faz parte de uma série de artigos preparados pelas oradoras do evento Soapbox Science Lisbon. A segunda edição do Soapbox Science Lisbon, para promover as mulheres na ciência, terá lugar no dia 23 de Outubro de 2021. Guardem esta data!

O que são plantas invasoras? Inva… quê?
Por Hélia Marchante
As plantas são seres vivos incríveis! Admiro-as muito e acho que foi o contacto que sempre tive com a natureza que me inspirou esta admiração! Suportam a nossa vida (e a de tantos outros seres vivos!) e sem elas não conseguimos viver. Mesmo! No entanto, quando retiradas das suas áreas de distribuição natural (i.e., quando são colocadas pelo Homem numa situação exótica, fora das suas regiões de origem), uma pequena parte dessas espécies de plantas (Não todas! Não a maioria!) têm a capacidade de revelar comportamento invasor, fugindo ao controlo do Homem e causando muitos problemas. As invasões biológicas (incluindo por plantas) são mesmo consideradas a 5ª principal ameaça à biodiversidade a nível global, pondo em causa o equilíbrio dos ecossistemas (de que tanto precisamos para viver!) e promovendo prejuízos elevados a nível económico e na saúde pública. A minha investigação foca-se em conhecer melhor e perceber os impactes que algumas destas espécies de plantas invasoras (por exemplo, as acácias, as ervas-das-Pampas ou os jacinto-de-água) causam, como as podemos controlar melhor e mitigar os impactes que causam. A minha "luz ao fundo do túnel" é conseguir contribuir para que as espécies e habitats atualmente invadidos possam recuperar para situações mais naturais! E proteger os habitats que ainda não estão invadidos para que os meus filhos, as gerações futuras, os possam conhecer!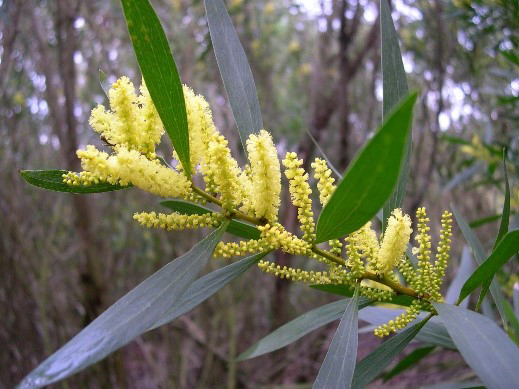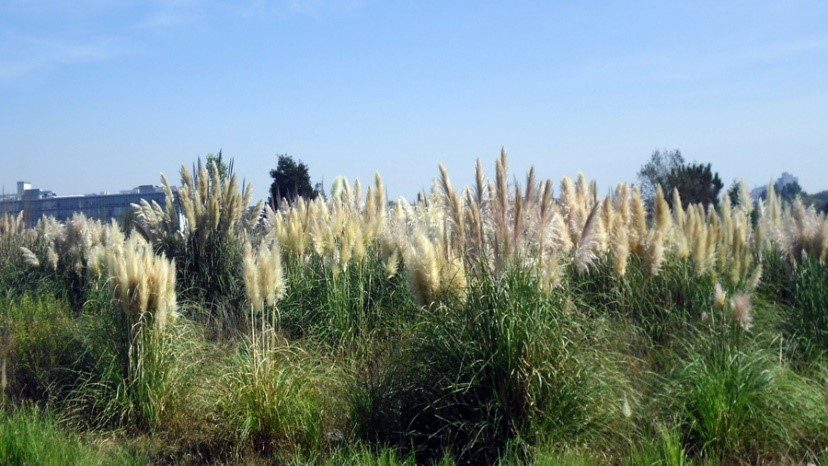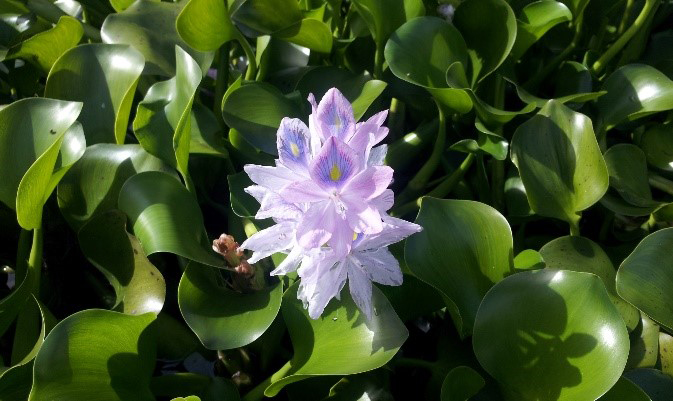 Por um lado, considero essencial que nós, cientistas, levemos a todos os cidadãos a ciência que fazemos; e é fundamental que o façamos cada vez melhor. Por outro lado, tenho consciência que o tema das espécies invasoras é ainda pouco conhecido (ou mesmo desconhecido) para a maioria dos cidadãos. E, no entanto, para melhor gerir esta enorme ameaça é muito importante sensibilizar, comunicar mais sobre o tema: cidadãos que desconhecem o problema promovem facilmente espécies que podem criar invasões (por exemplo, ao escolher a espécie errada para o seu jardim, ao libertar um animal de estimação ou ao deitar a água de um aquário para o ralo); pelo contrário, cidadãos bem informados podem dar contributos fantásticos para conter e/ou diminuir a ameaça de espécies invasoras. É por isso crucial comunicar sobre este tema a todos! É isto que me move – fazer com que a ciência que faço, e a forma como a tento comunicar, ajude cada vez mais cidadãos a passar para o lado de quem contribui para atenuar este problema. É fascinante pensar que podemos pôr uma gotinha no imenso mar do conhecimento e ajudar com isso a contribuir um pouco para um mundo melhor.
Espero que a minha palestra na Soapbox Science me ajude a alcançar novos públicos, mais cidadãos! A trazê-los para o lado de quem não agrava os problemas das invasões biológicas. Podem encontrar muito mais informação sobre as plantas invasoras em Invasoras.pt, a plataforma de informação e ciência-cidadã de que sou corresponsável.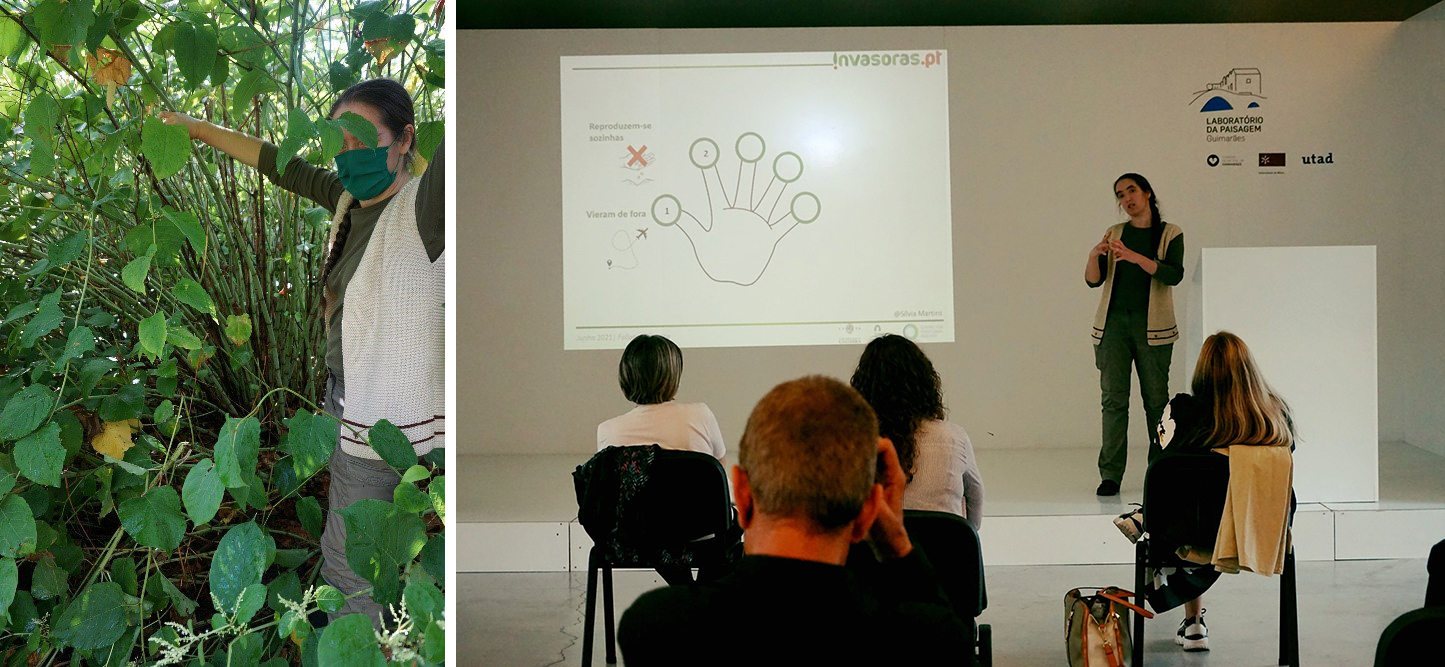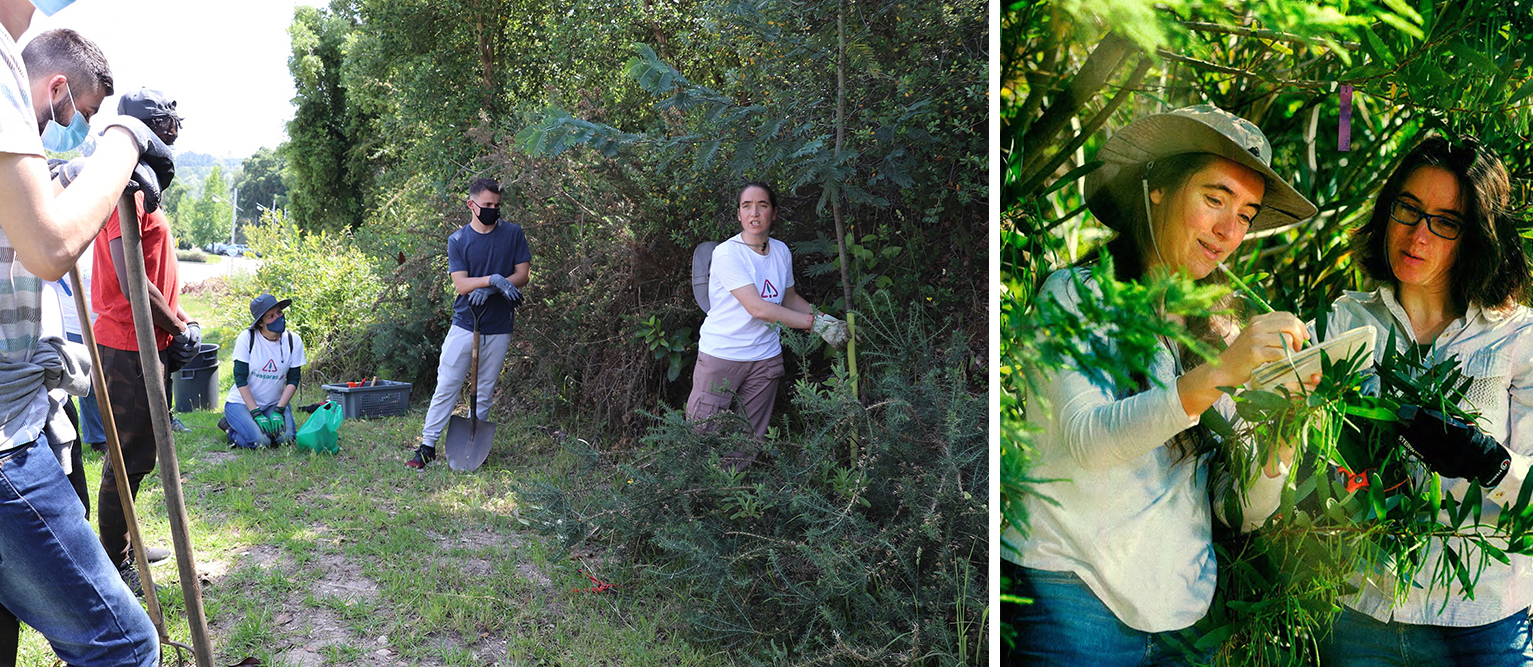 Autora: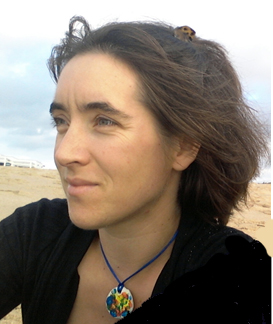 Hélia Marchante é bióloga e foca a sua investigação na ecologia de plantas invasoras. Fez o seu doutoramento em Biologia – Ecologia na Universidade de Coimbra, em colaboração com a Universidade da Cidade do Cabo (África do Sul) há muitos anos. É professora da Escola Superior Agrária do Instituto Politécnico de Coimbra e adora dar aulas. Também é investigadora do Centro de Ecologia Funcional onde participa em projetos sobre plantas invasoras. Participa e organiza atividades de comunicação de ciência incluindo apresentação de resultados da sua investigação e atividades de sensibilização sobre espécies invasoras e controlo biológico; quer através das redes sociais, promovendo projetos de ciência cidadã (disponíveis em www.invasoras.pt), webinars, workshops práticos, desenvolvimento de materiais de divulgação, etc. Adora o seu trabalho e tem uma irmã gémea que trabalha com ela – e esses são os segredos para não desistir quando as coisas se complicam.
❉ ❉ ❉
Organização: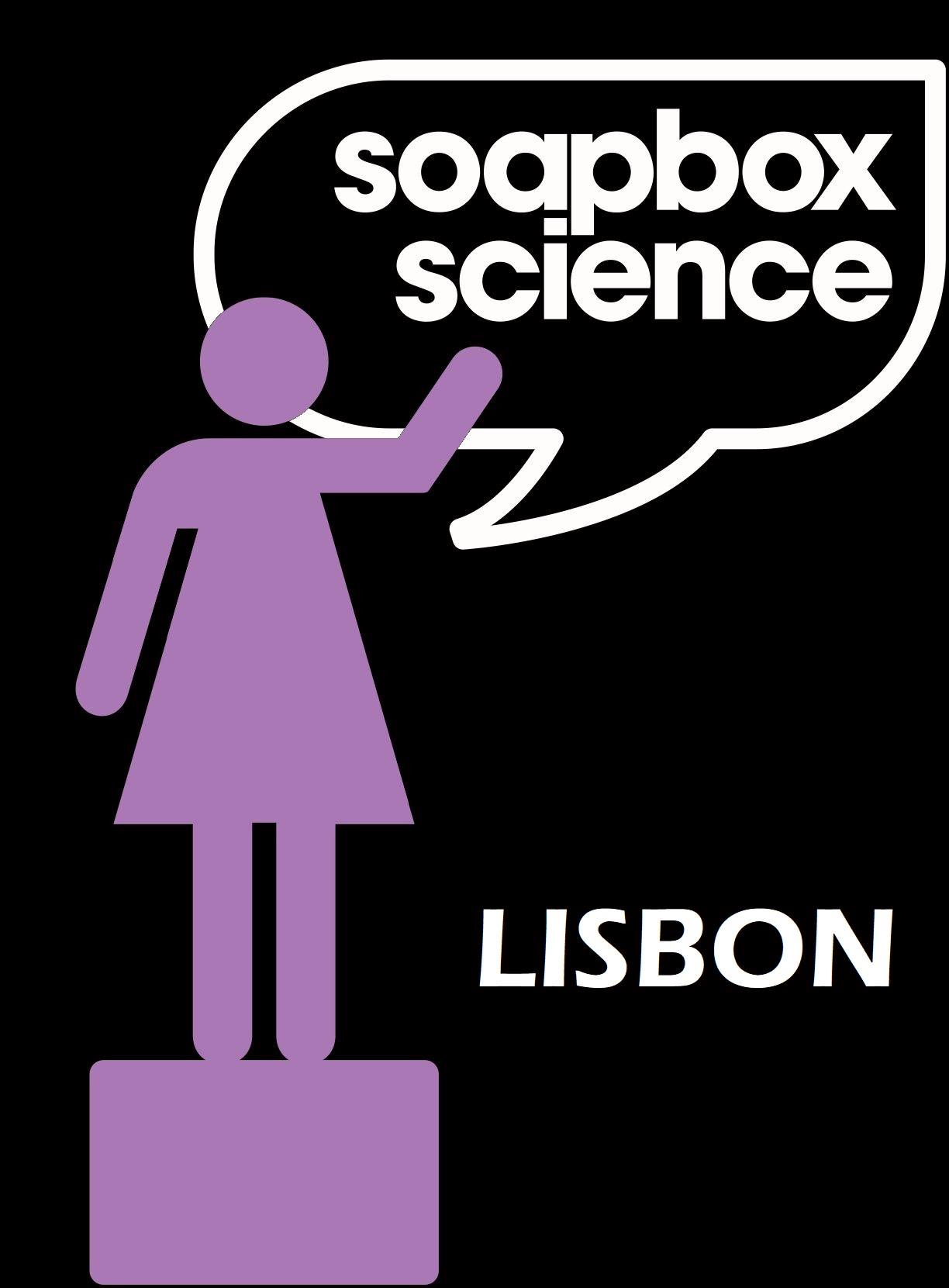 Email: soapboxscience.lisbon@gmail.com
Em colaboração com:
❉ This article is part of a series of articles prepared by the speakers at the Soapbox Science Lisbon event. The second edition of Soapbox Science Lisbon, to promote women in science, will happen on 23rd of October 2021. Save the date!

What are invasive plants? Inva… what?
By Hélia Marchante
Plants are amazing living things! I admire them a lot and I think it was the contact I always had with nature that inspired this admiration! They support our lives (and that of so many other living beings!) and without them we cannot live. Really! However, when removed from their natural distribution areas (i.e., when they are placed by humans in an exotic situation, outside their regions of origin), a small part of these plant species (Not all! Not most!) have the ability to reveal invasive behavior, escaping from human control and causing many problems. Biological invasions (including by plants) are considered the 5th main threat to biodiversity at a global level, jeopardizing the balance of ecosystems (which we need to live!) and promoting high economic and public health losses. My research focuses on increasing the knowledge and understanding of the impacts that some of these invasive plant species (for example, wattles, Pampas grass or water hyacinth) cause. How can we control and mitigate the impacts they cause successfully? My "light at the end of the tunnel" is to be able to contribute so that currently invaded species and habitats can recover for more natural situations! And protect the habitats that are not yet invaded so that my children, future generations, can get to know them!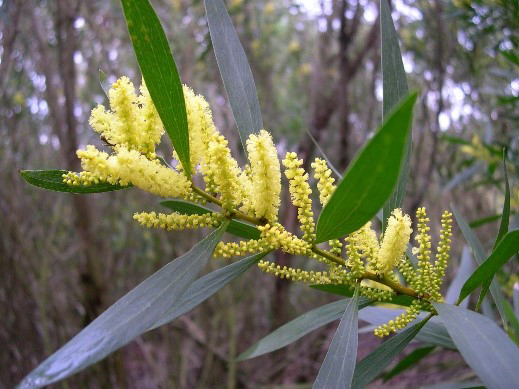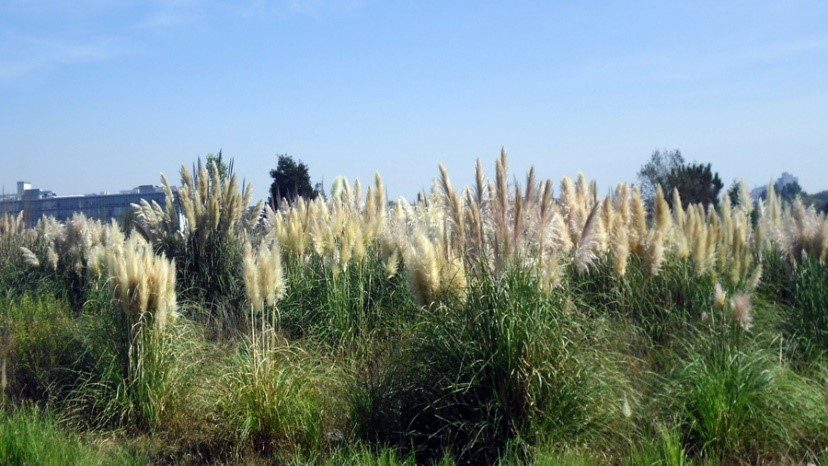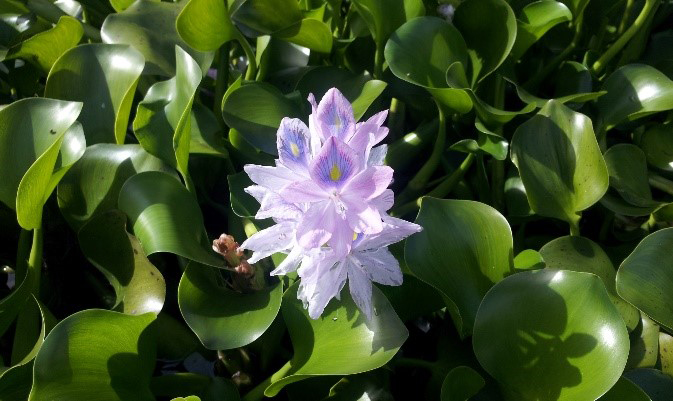 On the one hand, I consider it essential that we scientists bring the science we do to all citizens; and it is essential that we do it increasingly better. On the other hand, I am aware that the issue of invasive species is still little known (or even unknown) for most citizens. And yet, to better manage this huge threat, it is very important to raise awareness, communicate more about the topic. Citizens who are unaware of the problem easily promote species that can create invasions (for example, by choosing the wrong species for their garden, by releasing a pet or when pouring water from an aquarium into the drain). On the contrary, well-informed citizens can make fantastic contributions to containing and lessening the threat of invasive species. Therefore, it is crucial to communicate this topic to everyone! This is what moves me – to make sure the science I do, and the way I try to communicate it, help more and more citizens to join those who contribute to alleviating this problem. It's fascinating to think that we can put a drop in the immense sea of ​​knowledge and help with this to contribute a little to a better world.
I hope my talk at Soapbox Science helps me reach new audiences, more citizens! Bringing them to the side of those who no longer aggravate the problems of biological invasions. You can find much more information about invasive plants at Invasoras.pt, the information and citizen-science platform of which I am co-responsible.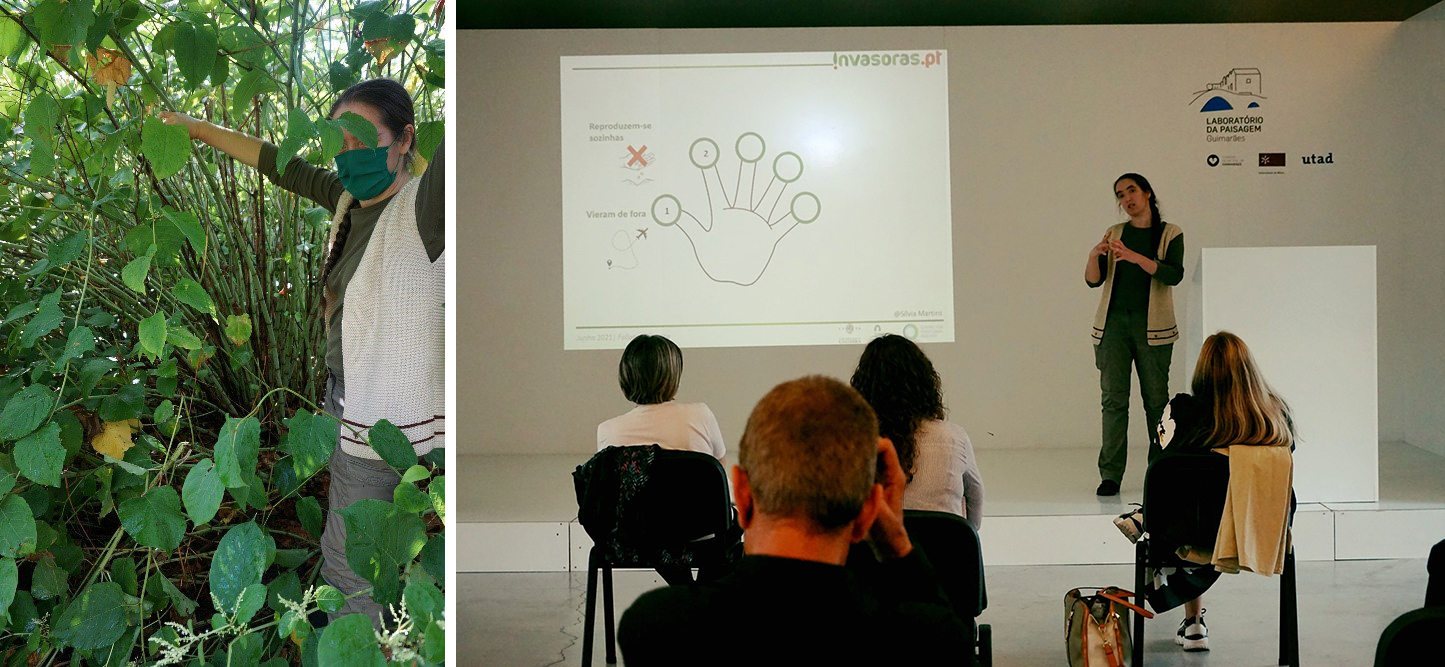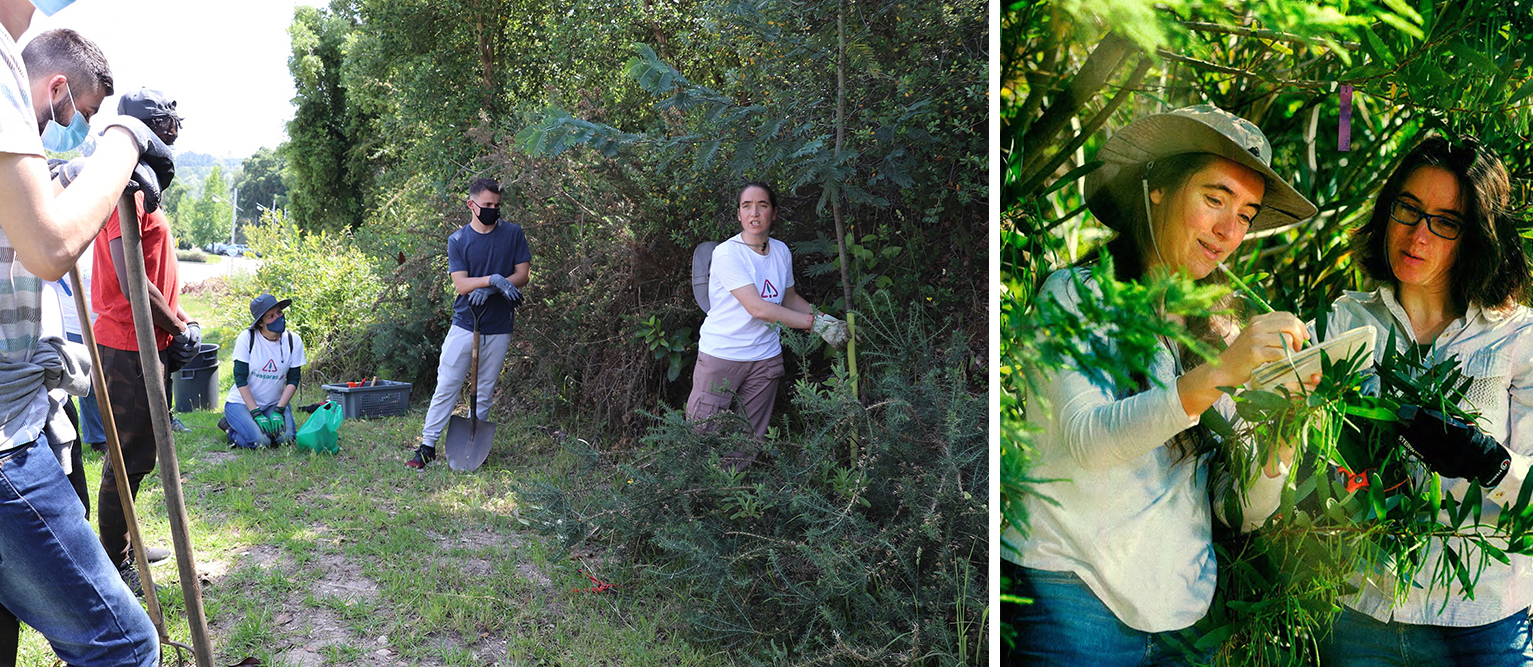 Author:

Hélia Marchante is a biologist and focuses her research on the ecology of invasive plants. She did her PhD in Biology – Ecology at the University of Coimbra, in collaboration with the University of Cape Town (South Africa) many years ago. She is a professor at the Escola Superior Agrária of the Polytechnic Institute of Coimbra and loves to teach. She is also a researcher at the Center for Functional Ecology where she participates in projects on invasive plants. Participates and organizes science communication activities including presentation of research results and awareness activities on invasive species and biological control; or through social networks, promoting citizen science projects (available at www.invasoras.pt), webinars, practical workshops, development of dissemination materials, etc. She loves her job and has a twin sister who works with her – and these are the secrets to not giving up when things get tough.
❉ ❉ ❉
Organizers: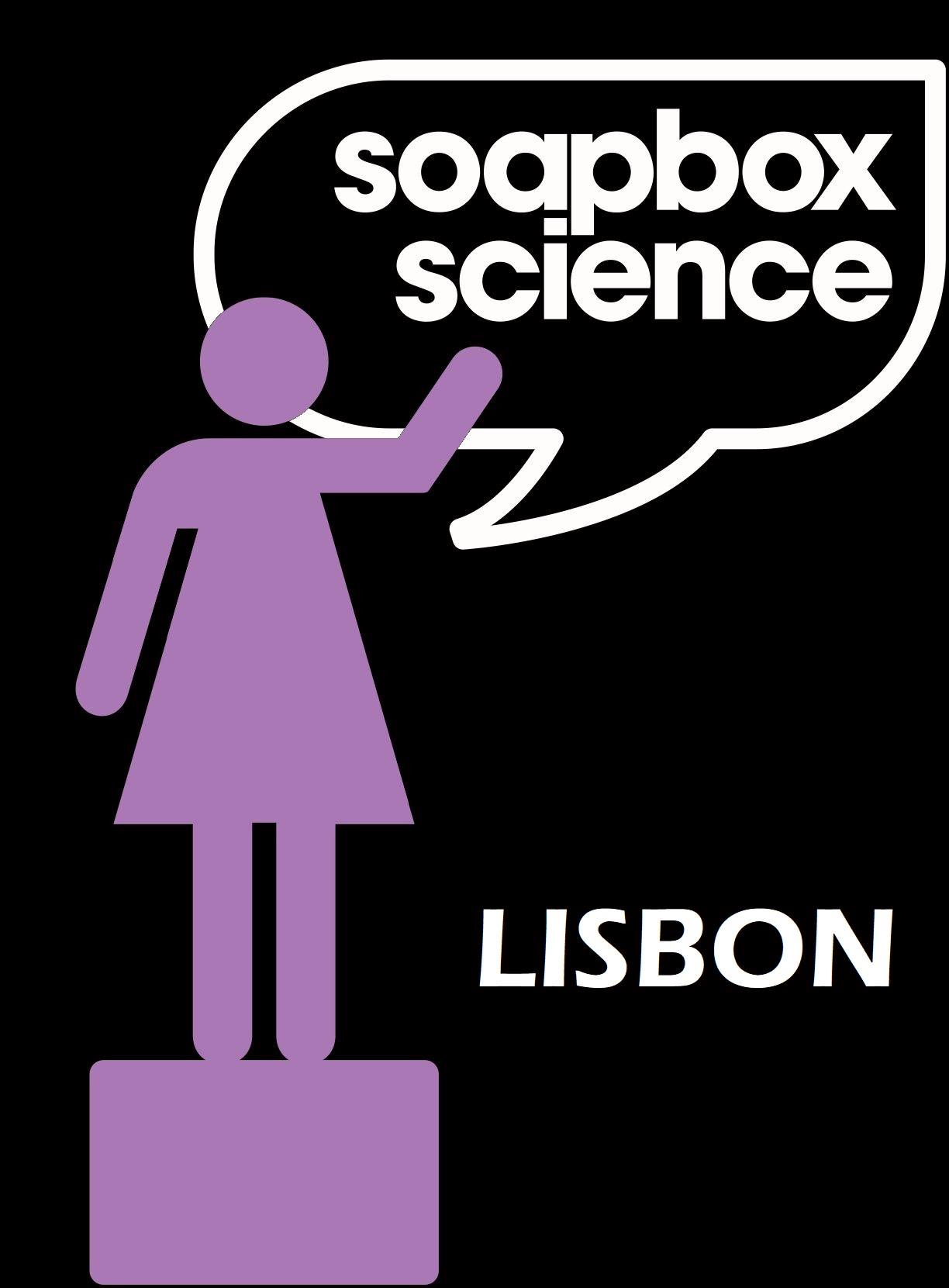 Email: soapboxscience.lisbon@gmail.com
In collaboration with:
Classificação dos leitores