O poder da visualização na ciência
Versão Portuguesa 🇵🇹
English version 🇬🇧
❉ Este artigo faz parte de uma série de artigos preparados pelas nossas colaboradoras da Soapbox Science Lisbon. A segunda edição do evento Soapbox Science Lisbon, para promover as mulheres na ciência, terá lugar no dia 23 de Outubro de 2021. Guardem esta data!

O poder da visualização na ciência 
Por Helena Pinheiro 
Há alguns anos deparei-me com uma ilustração do interior do vírus Ébola que me impressionou. Não me recordo do contexto em que me deparei com este trabalho nem nada mais sobre esse dia, mas tenho uma memória clara desta ilustração e ainda consigo lembrar-me da sensação que me provocou. Mais tarde vim a descobrir que se tratava de um trabalho de um biólogo estrutural e pintor chamado David Goodsell. Apesar de também ser cientista, sempre tive uma certa tendência a dedicar pouca atenção a trabalhos relacionados com biologia estrutural por ser algo que sentia ser incapaz de compreender. No entanto, após o encontro com esta ilustração dei por mim intrigada por este tipo de trabalhos e, por fim, a prestar atenção.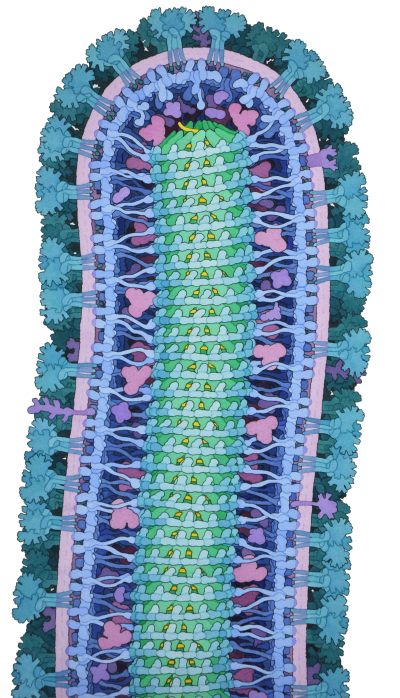 Aguarela de uma seção longitudinal do vírus do ebola, por David Goodsell.
Não tenho ideia de quão importante terá sido o papel deste momento na minha vida, mas a verdade é que anos mais tarde comecei a dedicar uma grande parte do meu tempo à ilustração de ciência. Curiosamente, esta experiência alterou a minha visão como cientista da biologia celular, a minha área de trabalho. Após ter visto a forma caótica como as proteínas interagem no interior do vírus, organizadas numa ordem aparentemente rigorosa, a minha visão da biologia afastou-se da visão tradicional que nos é transmitida pelos livros técnicos. Penso que me deu mais perspetiva. Comecei a pensar mais no meu trabalho e no de colegas à luz da evolução e de como é que os mecanismos celulares terão evoluído.
Fascina-me sempre a forma como ver o mais pequeno e microscópico normalmente nos leva a questionar o mais amplo. Acredito que o facto de sairmos da nossa escala nos leva a um lugar onde podemos pensar livremente e ser criativos. O funcionamento do nosso cérebro depende muito da forma como funciona normalmente. As conexões entre neurónios, que constituem a base dos nossos pensamentos, são moldadas pelos nossos hábitos. Por esta razão, quando somos confrontados por algo diferente ou que vai além do que estamos habituados, como as escalas que não somos capazes de perceber naturalmente, o nosso pensamento torna-se mais livre. Não é surpreendente que por vezes tenha a mesma sensação quando observo células através do microscópio. Mas a maior vantagem da arte como uma ferramenta de visualização na ciência é o facto de não ter qualquer limite. Através da arte podemos combinar e visualizar todas as nossas hipóteses. Conceitos abstratos ganham forma e materializam-se aos nossos olhos. De repente surgem novas questões e ideias e até certas coisas para as quais não tínhamos explicação podem começar a fazer sentido.
Por outro lado, a linguagem da arte é universal. A compreensão de dados e de trabalhos científicos na forma como são partilhados entre cientistas requer um conjunto de capacidades que os cientistas vão desenvolvendo ao longo da sua formação. No entanto, a ilustração de trabalhos científicos permite traduzir conceitos complexos em imagens claras e atrativas que podem ser apreciadas por todos os interessados, independentemente da sua área de formação. Por isso mesmo, a arte também pode ser usada como uma valiosa ferramenta de comunicação de ciência.
Apesar de ter descrito uma experiência pessoal, acredito que este exemplo ilustra como a arte e a ciência estão intrinsecamente relacionadas. A ligação entre estas áreas está presente até na sua origem: ambas são formas de questionar o mundo à nossa volta. Geralmente aceitamos que as ideias evoluem mais a partir da diferença e de debate saudável do que da discussão apenas entre pessoas que têm visões muito semelhantes. Na interface entre a arte e a ciência há um espaço enorme para confrontar as nossas ideias, unindo estes dois mundos cheios de mentes curiosas.
Autora:
A Helena Pinheiro é estudante de doutoramento no iMM, Instituto de Medicina Molecular João Lobo Antunes, em Lisboa. O seu trabalho foca-se no estudo da organização a nível celular das células de músculo. Ao longo da sua carreira desenvolveu um interesse pela área da ilustração e pela ligação entre a arte e a ciência e o poder da visualização gráfica.
Instagram: @scienceintranslation
Twitter: @hele_pinheiro
❉ ❉ ❉
Organização: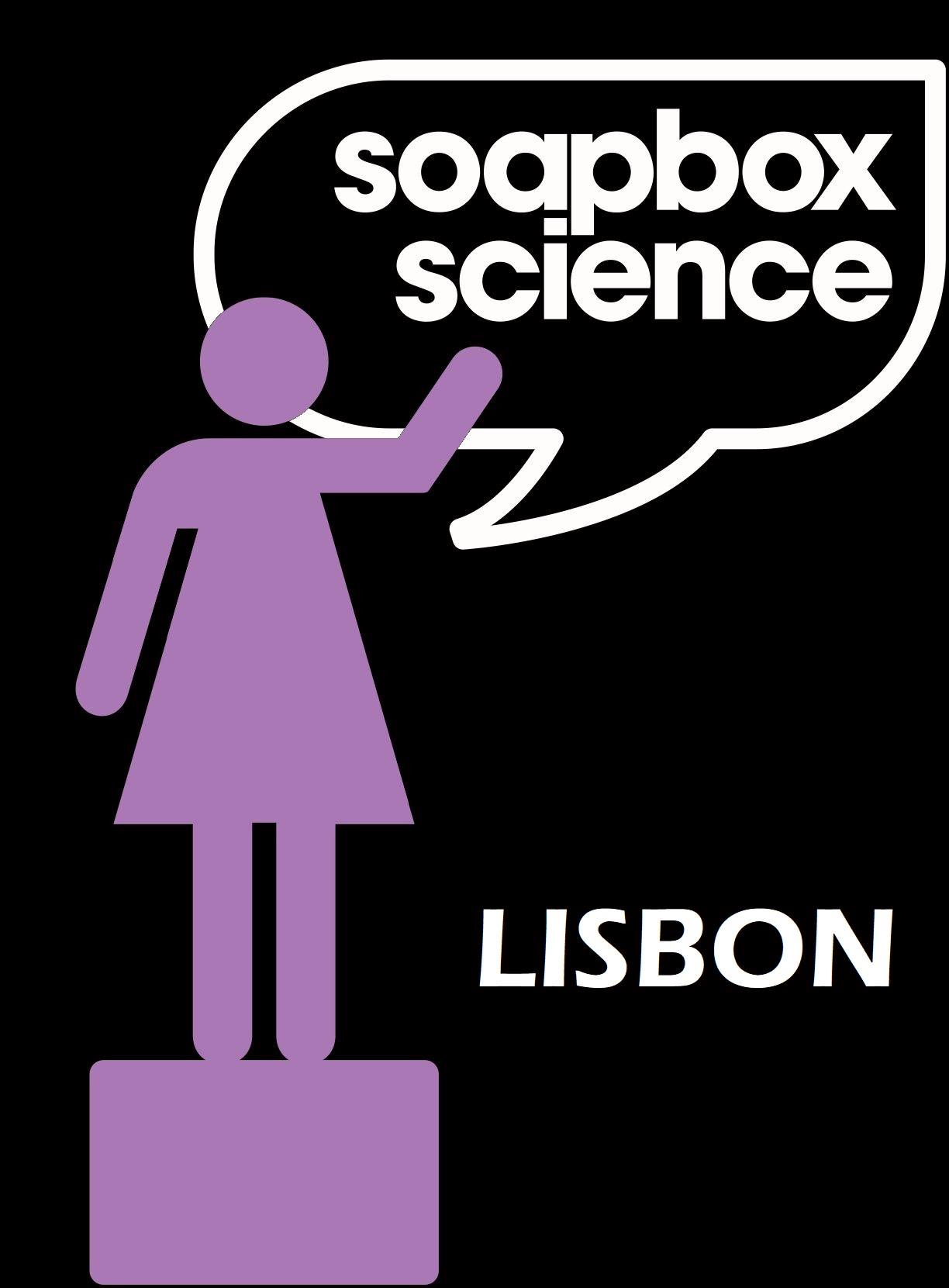 Email: soapboxscience.lisbon@gmail.com
Em colaboração com:
❉ This article is part of a series of articles prepared by our collaborators from Soapbox Science Lisbon. The second edition of the Soapbox Science Lisbon event, to promote women in science, will happen on 23rd of October 2021. Save the date!

The power of seeing in science 
By Helena Pinheiro
Some years ago, I came across a beautiful watercolour depicting the interior of Ebola virus in detail. I don't remember the context of this finding or anything else about that particular day, but I have a clear image of that painting in my mind and I can still recall how it struck me. I later found out that the painting was a work from David Goodsell, a structural biologist and talented artist. Although I am also a scientist, I always dismissed structural biology as something I could hardly understand. After that moment though, I found myself intrigued by these works and, ultimately, paying attention.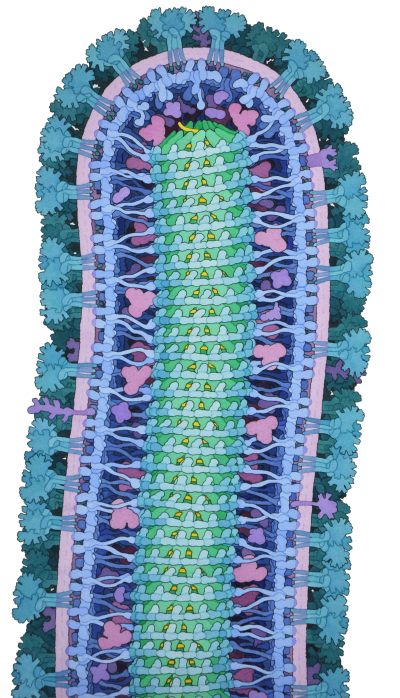 Watercolour of the cross section through ebola virus by David Goodsell.
I am not sure how big of a role this experience played in my life, but years later, I did start to dedicate a lot of my free time to science illustration. Notably, this experience shaped my understanding of cell biology, as a scientist. After visualising the chaotic and intricate connections between proteins arranged into an apparently strict order in the virus, my vision on my own research and the research of others grew distant from textbook biology. I think it gave me perspective. I started wondering more about my findings in the light of evolution and of how things came to be.
It is fascinating how actually seeing the very little and microscopic can usually lead to thinking about the very large. I believe it takes us from our own scale to a spot where we can be more creative and think without constraints. The way our brain works depends a lot on what it is used to doing. The connections between neurons that drive our thoughts or anything else are molded by our habits. For this reason, when we are confronted with something that is different or goes beyond what we are used to, such as the very small or the very large, our thinking is more free. Not surprisingly, I get the same awe sometimes when looking at cells through a microscope. But the biggest advantage of art as a visualisation tool in science is that it has no limitations. Through art all data can be combined and all hypotheses can be illustrated and visualised. Abstracts concepts can take form and materialize before our eyes. Suddenly, new questions and ideas arise and even incongruences can become clearer.
On another point, the language of art is universal. Understanding data and scientific works in the form they are shared between scientists requires a specific set of skills that scientists acquire through their training. Artistic depictions of scientific works allow for the translation of these complex concepts into clear and visually appealing images. These can be appreciated by anyone interested despite their background training. Thus, art constitutes a valuable tool for science communication.
Although this is a personal experience, I believe this example illustrates how science and art are deeply connected. In fact, the connection between these fields is present at their root: both art and science are ways to question the world around us. It is a general view that our ideas grow more from difference and healthy debate than from discussing exclusively with similar minded people. In the interface between science and art, there is a lot of space to confront and evolve our views, by joining these two worlds populated by deeply curious minds.

Author:
Helena Pinheiro is a PhD student at iMM, Instituto de Medicina Molecular João Lobo Antunes, in Lisbon. Helena studies how muscle cells are organised at the cellular level. Along her career, she developed a passion for illustration, the connection between art and science and the power of graphic visualisation.
Instagram: @scienceintranslation
Twitter: @hele_pinheiro
❉ ❉ ❉
Organizers: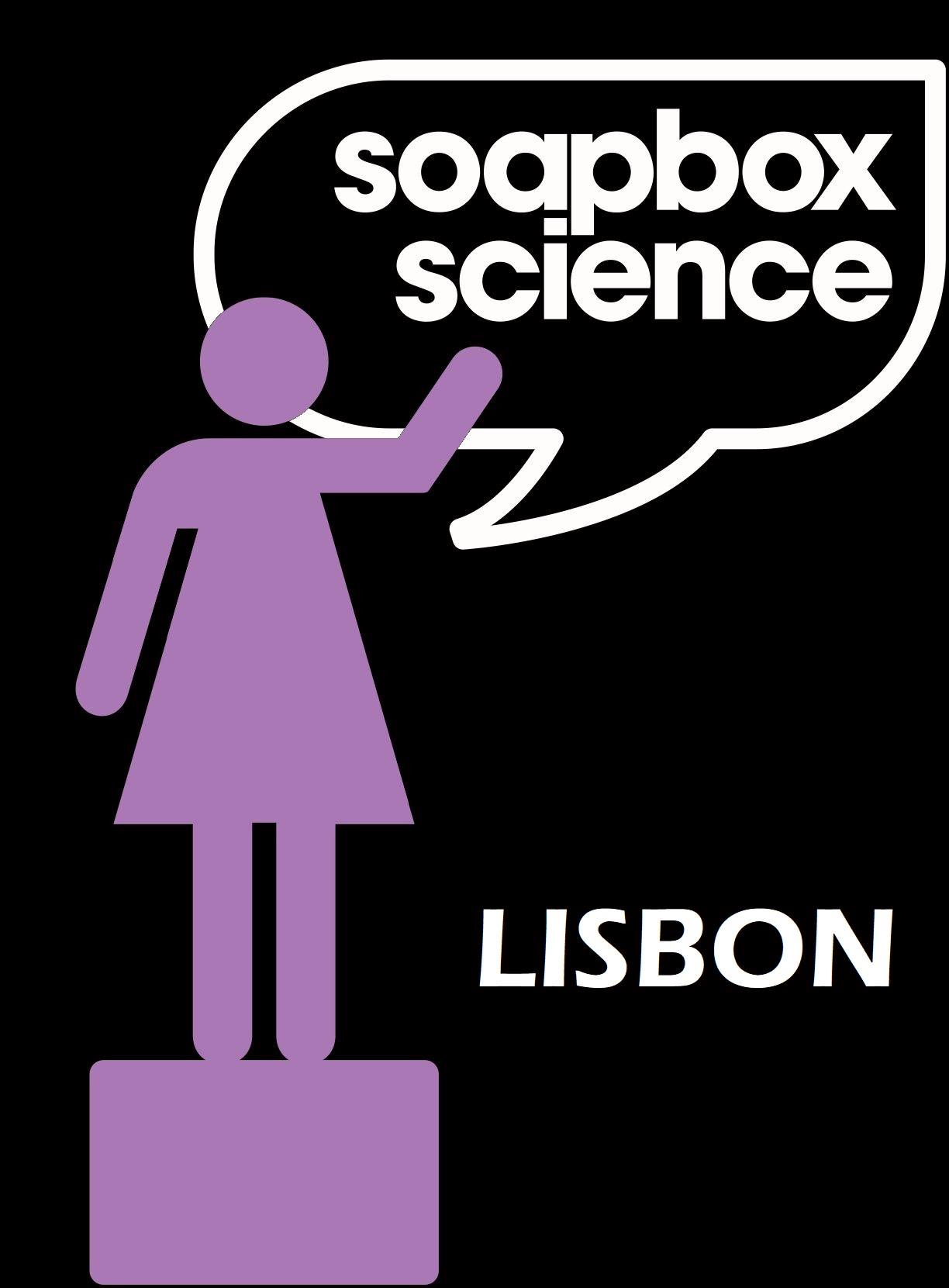 Email: soapboxscience.lisbon@gmail.com
In collaboration with:
Classificação dos leitores