Vale a pena?
Versão Portuguesa 🇵🇹
English version 🇬🇧
❉ Este artigo faz parte de uma série de artigos preparados pelas nossas colaboradoras da Soapbox Science Lisbon. A segunda edição do evento Soapbox Science Lisbon, para promover as mulheres na ciência, terá lugar no dia 23 de Outubro de 2021. Guardem esta data!

Vale a pena?
Por Ana Santos Carvalho
Desde cedo me apercebi que gostava de comunicar: em criança, entretinha os meus avós na agricultura; em adolescente, nunca deixei de comunicar aquilo em que acreditava; já jovem adulta, acabada de entrar na faculdade, percepcionei, pela primeira vez, a dimensão da ação comunicar ciência.
Estava ainda no 3º ano do Mestrado Integrado em Ciências Farmacêuticas (Universidade de Coimbra) quando, desafiada pela Professora, participei na minha primeira Semana Internacional do Cérebro. Cabia-nos explicar a crianças o efeito do álcool numa exposição denominada "Drogas e Cérebro" (Pavilhão do Conhecimento, Lisboa). Foi assim que começou esta minha ligação irreversível à Comunicação de Ciência.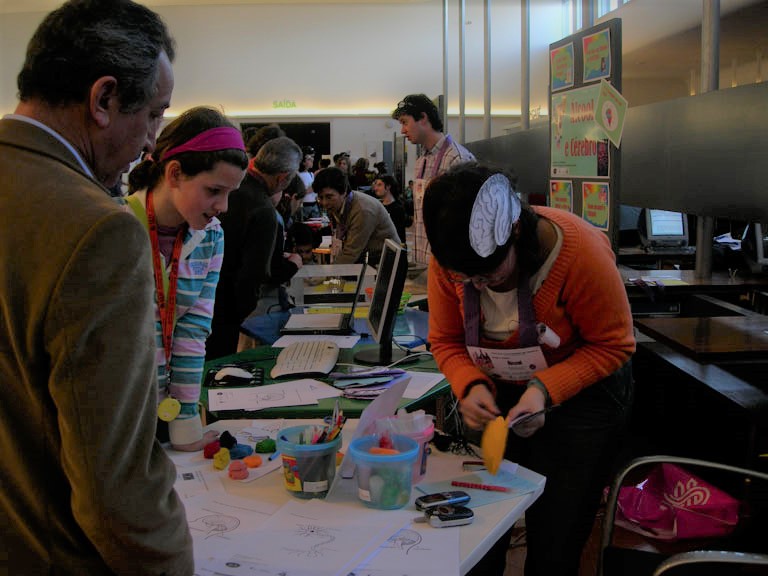 A construir cérebros de papel com crianças na exposição "Drogas e Cérebro" – 12 de Março de 2006 | Pavilhão do Conhecimento, Lisboa.
Não sei o que mais me apaixona: se o fascínio nos olhos de quem ouve, ou a alegria no sorriso de quem comunica! É esta partilha, esta interação entre ouvinte e cientista, que me move.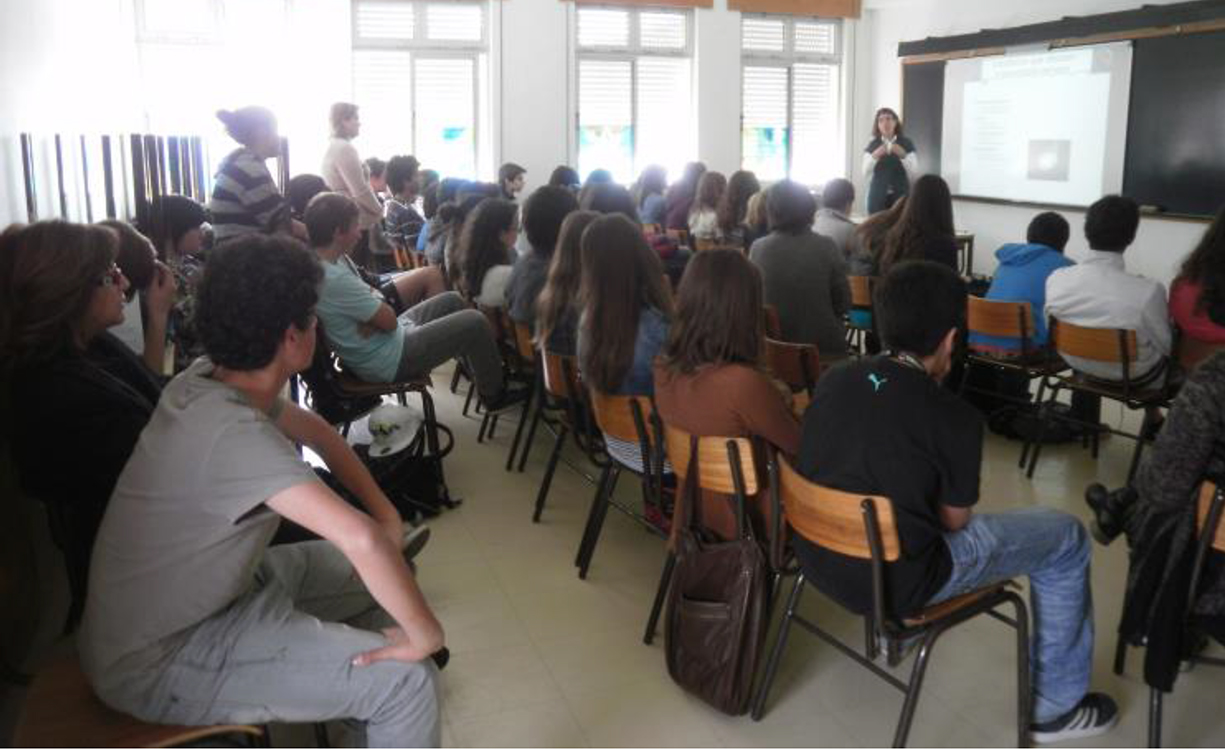 A apresentar nos "Cientistas vão às Escolas" – Escola 2º e 3º Ciclos de Cacia – Aveiro | Semana Internacional do Cérebro 2013.
No final do meu curso, percebi que a Ciência me desafiava e que queria continuar a quebrar barreiras. Dediquei-me a compreender o papel de uma pequena molécula no fundo do nosso olho, na zona mais acessível do nosso sistema nervoso, na retina. O Neuropéptido Y, que carinhosamente chamamos NPY, acompanhou-me durante mais de 4 anos. Anos de dedicação, de superação científica e pessoal, onde os momentos investidos na partilha com o público me deixavam sempre de coração cheio.
Começava a perceber que não podia viver sem ela!
Evento atrás de evento, queria sempre mais!
No final do Doutoramento, período de reflexão, escolhi o inevitável, desbravar caminho na Comunicação de Ciência. Nos seis anos que se seguiram, experimentei outros papéis, deixei de ser só a cientista, para ser desencadeadora, organizadora, gestora de iniciativas de Comunicação de Ciência para estudantes de diferentes idades, numa tentativa de aproximação entre escolas e institutos de investigação (Instituto de Educação e Cidadania). Trabalhei com outras/os cientistas, incentivando-as/os a partilhar a sua Ciência.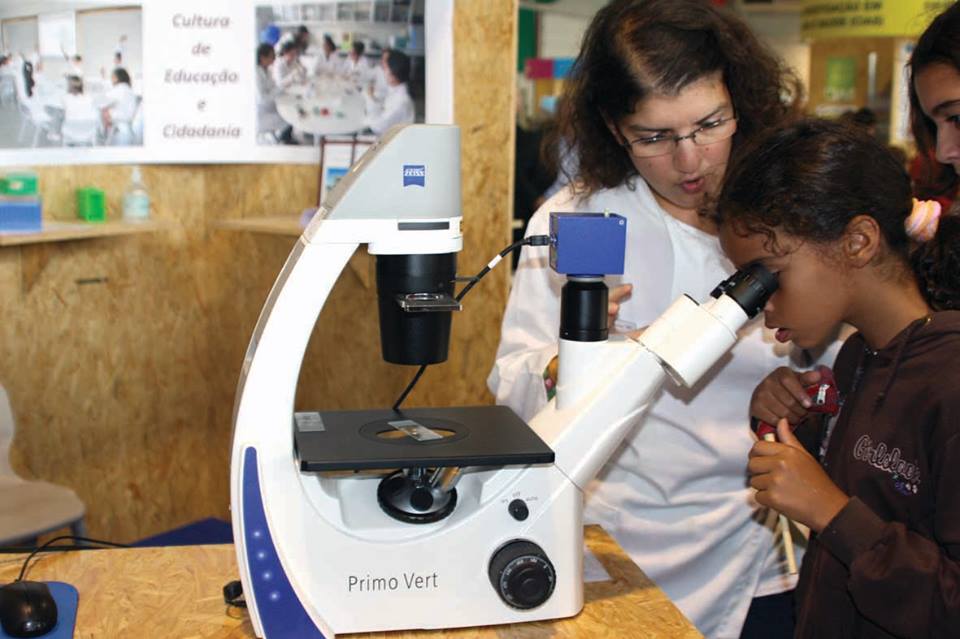 Observação de uma gota de um charco ao microscópio | Festival de Ciência de Oliveira do Bairro, FeCiOB.
Conheci novas perspetivas, novos desafios, razões que só fizeram crescer a minha paixão por ela!
Nunca mais a larguei, voltei a Coimbra para novos projetos de investigação (CNC – Centro de Neurociências e Biologia Celular), sempre lado a lado com a Comunicação de Ciência. Agora, a promoção de um sono de qualidade era o mote. Os públicos foram diversificando: atuar junto de doentes e potenciais doentes com apneia do sono, apoiar farmacêuticas/os no aconselhamento em problemas de sono, e sensibilizar para as regras de higiene do sono em toda a população.
Parece-vos fácil? Desenganem-se. Houve momentos difíceis, momentos em que nos dizem: "Andas a pregar a convertidos". Momentos que questionamos: Vale a pena esta dedicação?
Vale sim! Continuava a querê-la com o mesmo fervor. Queria continuar a fazê-la crescer na minha vida, agora de forma mais sustentável. Um contrato mais duradouro tornou-se uma necessidade.
Foi assim que cheguei ao Instituto de Investigação Interdisciplinar (iiiUC), onde coordeno atividades de Comunicação de Ciência junto de Estudantes de Doutoramento, de Investigadoras/es de diversas áreas de conhecimento e do público em geral. A Semana Internacional do Cérebro, a Noite Europeia dos Investigadores e tantos outros eventos continuam a acompanhar-me desde aquela primeira revelação de 2006.
A minha vida é preenchida por uma participação ativa em diversas iniciativas de Comunicação de Ciência, umas desafiam o público em lugares improváveis, como pubs ou bares (PubhD ou Pint of Science), outras desafiam estereótipos instituídos na nossa sociedade, promovendo as Mulheres na Ciência, como a Soapbox Science.
Organização do Pint of Science Coimbra, plataforma online, 17 a 19 maio 2021.
Dedico-me a todas as atividades de Comunicação de Ciência com a paixão e energia da primeira, e com a vontade de aproveitar cada momento como se fosse a última!
Vale sim! Vale muito a pena dedicar-me diariamente a partilhar Ciência com aqueles que muitas vezes não sabem, mas que, tal como eu, não sabem viver sem ela!
❉ ❉ ❉
Organização: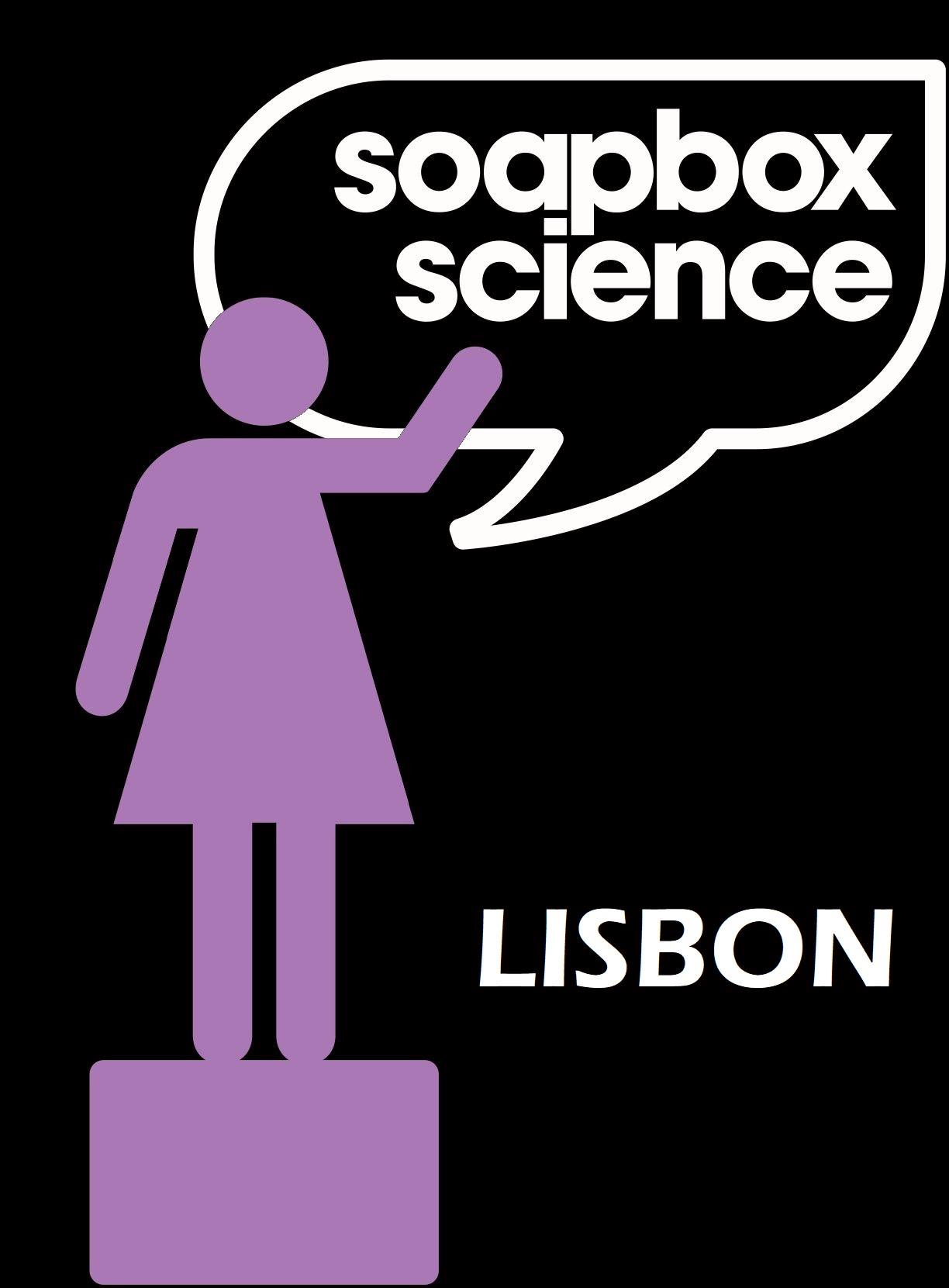 Email: soapboxscience.lisbon@gmail.com
Em colaboração com:
❉ This article is part of a series of articles prepared by our collaborators from Soapbox Science Lisbon. The second edition of the Soapbox Science Lisbon event, to promote women in science, will happen on 23rd of October 2021. Save the date!

Is it worth it?
By Ana Santos Carvalho
From an early age I realised that I liked communicating. As a child, I entertained my grandparents in agriculture. As a teenager, I never stopped communicating what I believed in, and as a young adult, having just started university, I realised for the first time the dimension of communicating science.
I was still in the 3rd year of the Integrated Masters in Pharmaceutical Sciences (University of Coimbra) when, challenged by my teacher, I took part in my first International Brain Awareness Week. Our task was to explain to children the effect of alcohol in an exhibition called "Drugs and the Brain" (Pavilhão do Conhecimento, Lisbon). This is how my irreversible connection to Science Communication started.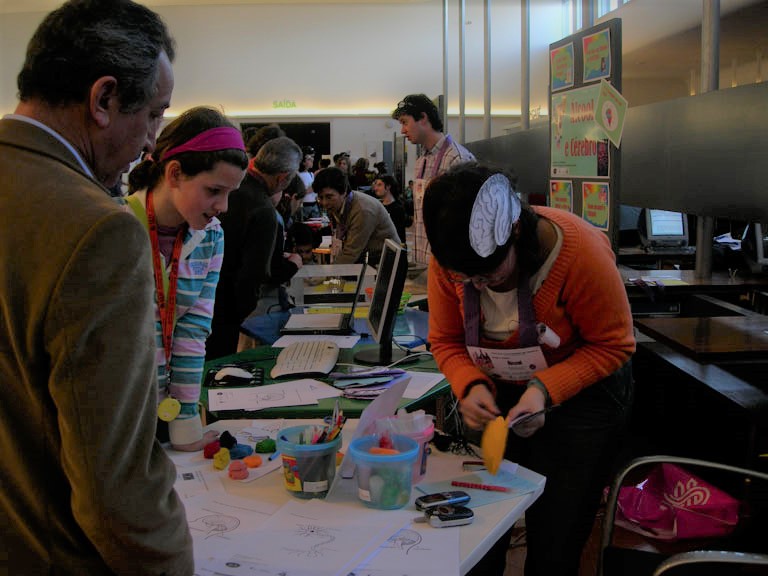 Building paper brains with children at the exhibition "Drugs and the Brain" – 12 March 2006 | Pavilhão do Conhecimento, Lisbon.
I don't know what I am more passionate about: the fascination in the eyes of those who listen or the joy in the smile of those who communicate! It is this sharing, this interaction between listener and scientist, that moves me.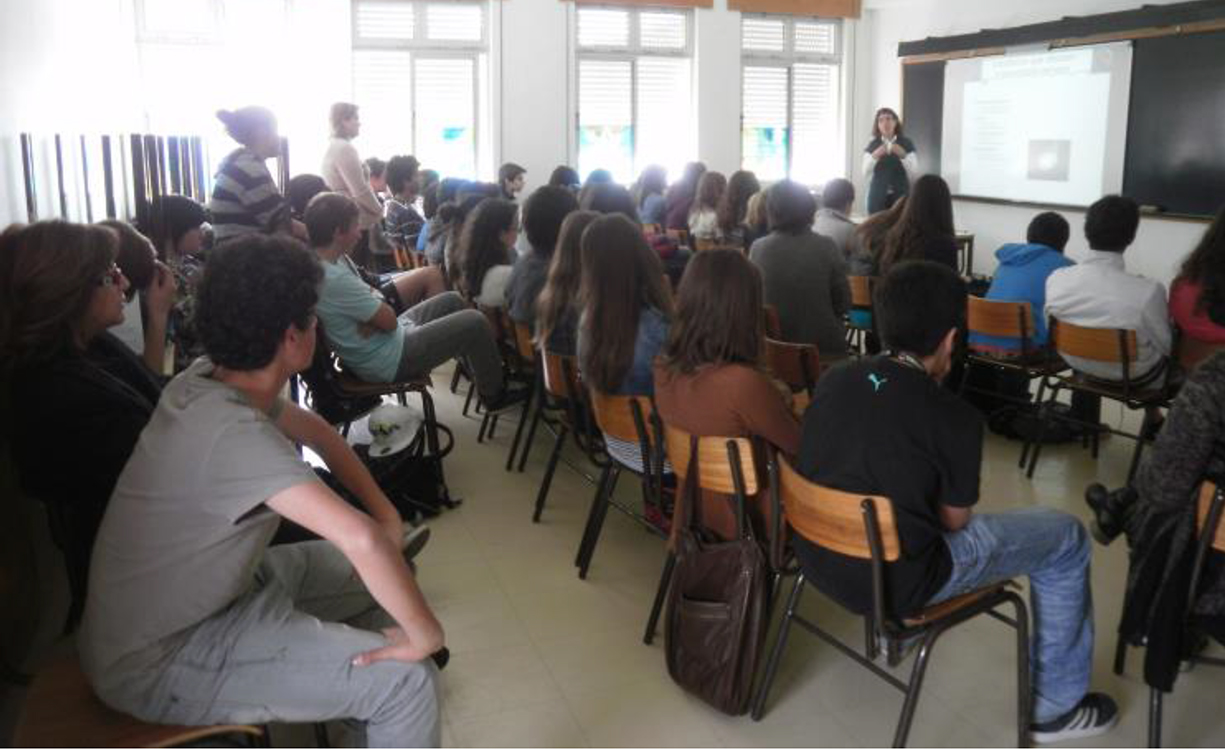 Presenting in the "Scientists go to Schools" – Escola 2º e 3º Ciclos, Cacia – Aveiro | Brain Awareness Week 2013
At the end of my course, I understood that science challenged me and that I wanted to continue to break down barriers. I dedicated myself to understand the role of a small molecule in the back of our eye, in the most accessible part of our nervous system, the retina. Neuropeptide Y, which we tenderly call NPY, accompanied me for over 4 years. Years of dedication, of scientific and personal overcoming, where the moments invested in sharing Science with the public always left me full of joy.
I began to realise that I couldn't live without her!
Event after event, I always wanted more!
At the end of my PhD, a period of reflection, I chose the inevitable, to make my way in Science Communication. In the six years that followed, I tried other roles, I stopped being just the scientist, to be the initiator, organizer, manager of science communication initiatives for students of different ages, in an attempt to bring together schools and research institutes (Institute for Education and Citizenship). I worked with other scientists, encouraging them to share their science.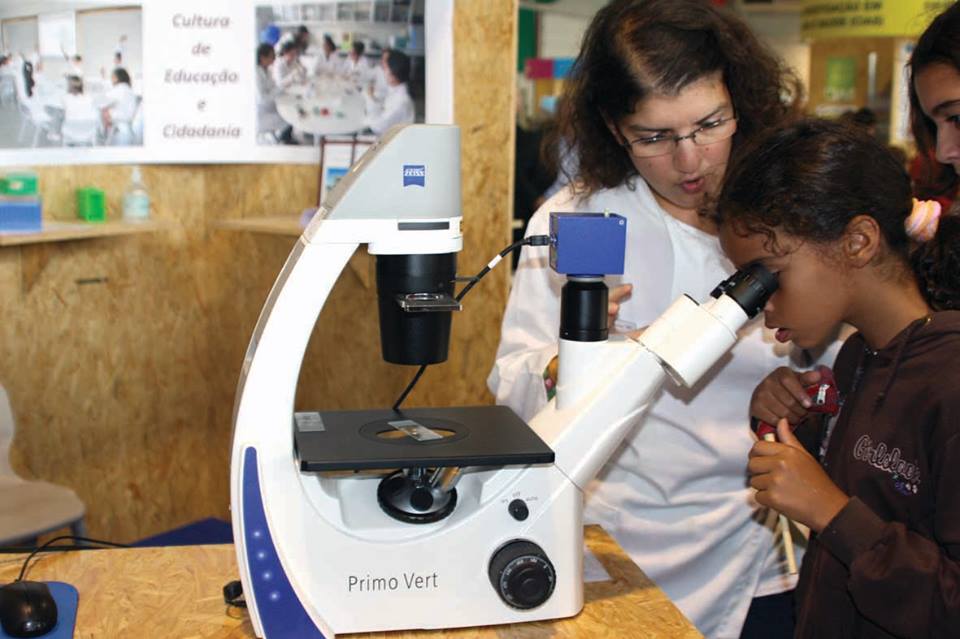 Observing a drop of water from a pond under the microscope | Festival de Ciência de Oliveira do Bairro, FeCiOB.
I met new perspectives, new challenges, reasons that only made my passion for science grow!
I never let it go, I came back to Coimbra for new research projects (CNC – Center for Neurosciences and Cell Biology), always side by side with Science Communication. Now the promotion of quality sleep was the motto. The audiences were diversified: to act with patients and potential patients with sleep apnea, to support pharmacists in counselling sleep problems and to raise awareness for sleep hygiene rules in the population.
Sounds easy? Don't be fooled. There were difficult moments, moments when we were told: "You are preaching to the converted". There were times when we asked ourselves: "Is this dedication worth it?
Yes, it is! I continued to want her with the same fervour. I wanted to continue to make her grow in my life, now in a more sustainable way. A longer contract became a necessity.
That is how I arrived at the Institute of Interdisciplinary Research (iiiUC), where I coordinate activities of Science Communication with PhD students, researchers from different areas of knowledge and the general public. The International Brain Awareness Week, the European Researchers' Night and many other events continue to accompany me since that first revelation in 2006.
My life is filled with an active participation in several Science Communication initiatives, some challenging the public in unlikely places like pubs or bars (PubhD or Pint of Science), others challenging stereotypes established in our society, promoting Women in Science, like Soapbox Science.
Pint of Science Coimbra, online platform, 17-19 May 2021.
I dedicate myself to all Science Communication activities with the passion and energy of the first, and with the will to enjoy every moment as if it was the last!
It is worth it! It is very worthwhile to dedicate myself every day to share Science with those who often do not know, but like me, cannot live without it!
❉ ❉ ❉
Organizers: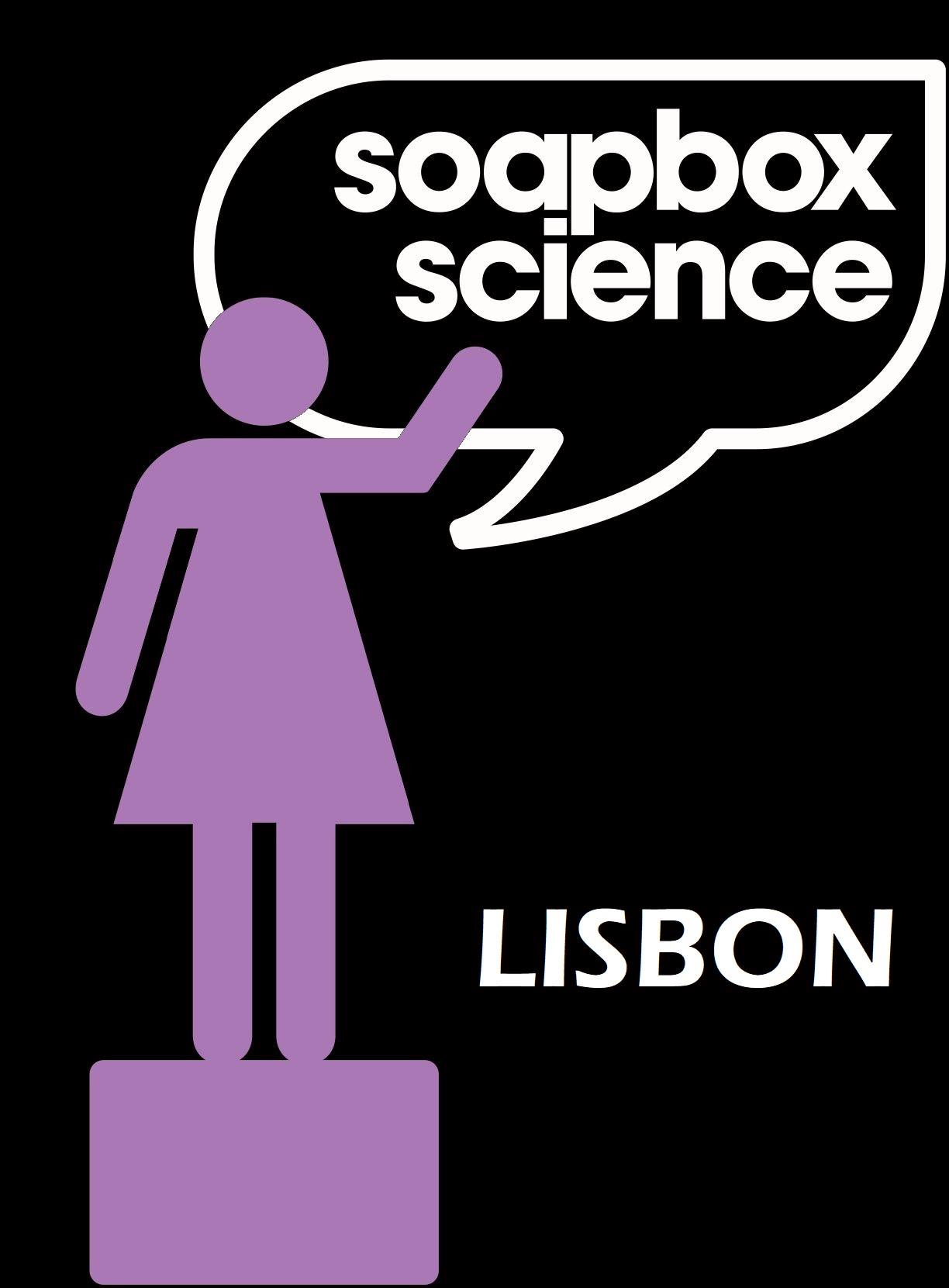 Email: soapboxscience.lisbon@gmail.com
In collaboration with:
Classificação dos leitores