EPSC – 28 Setembro
EPSC - 28 Setembro 🇵🇹
EPSC - 28 September 🇬🇧
Já estão disponíveis no vimeo as gravações em video das sessões de ontem no EPSC. Falou-se do programa Voyage 2050 (os planos científicos da ESA para as próximas décadas… ou como recomendar 3 missões de entre 90 propostas) e do "decadal survey" da NASA (o mesmo para a agência espacial americana). Mas também houve novidades da missão Cheops, que está a estudar exoplanetas a partir do espaço, e que ontem mesmo anunciou alguns resultados excitantes. Outras sessões centraram-se em novos instrumentos para detectar e estudar exoplanetas, na formação e evolução planetária, desde a acreção à diferenciação (sem esquecer as atmosferas), num programa da ESA para submissão de arte inspirada pelo espaço – são aceites todas as formas e todas as idades, até ao fim de Outubro –, e em cartografia planetária (geológica e não só), realçando vários casos marcianos.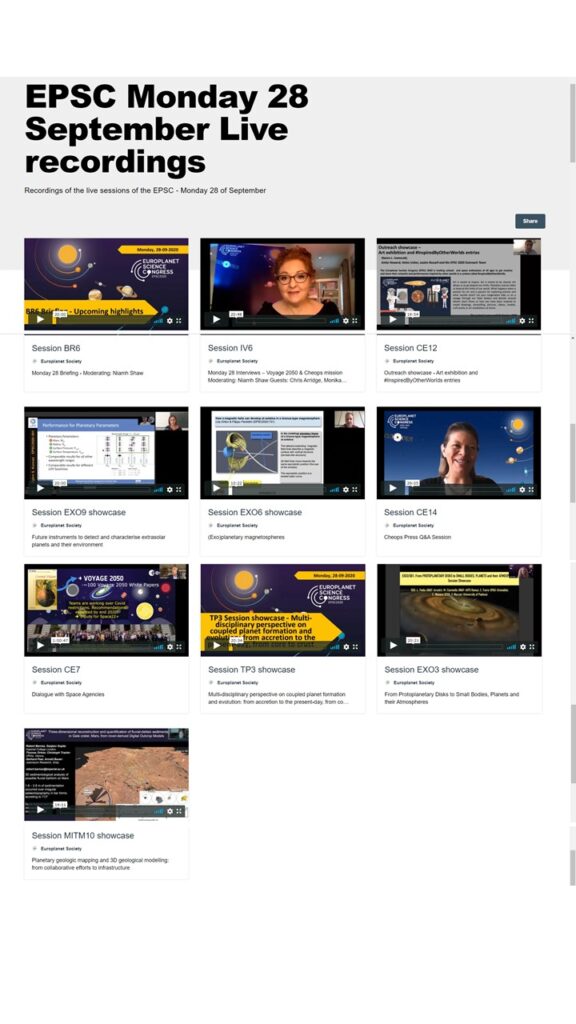 Tudo isto pode ser visto a partir desta página.
As próprias apresentações (quando os seus autores concordaram em torná-las públicas) de cada sessão científica podem ser também vistas a partir da página respectiva – mas para isso há que procurar no programa.
You can already see in vimeo the video recordings of yesterday's sessions in the EPSC. There was talk about the Voyage 2050 programme (the plans being devised by ESA for the next decades… or how to recommend 3 out of 90 proposals), the new NASA decadal survey (the science plans of the American space agency). But there were also news from the Cheops mission, currently in space, collecting data about exoplanets, that just yesterday announced some exciting results. Other sessions focused on new instruments to detect and study exoplanets, on planetary formation and evolution, from accretion to differentiation (and atmospheres), on an ESA programme for submission of art inspired by space – all kinds and ages accepted, until the end of October –, and on planetary mapping and cartography, of which several Martian examples were highlighted.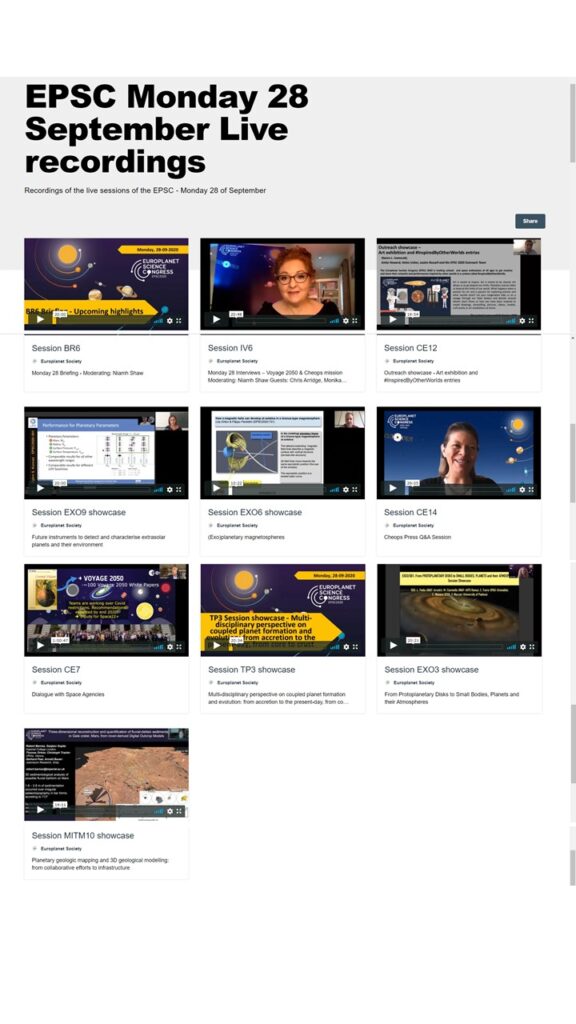 All of that is available from this page.
For each scientific session, the presentations themselves (in the cases in which the authors chose to make them publicly available) can be seen, from the respective page – you'll have to look it up in the programme.
Classificação dos leitores